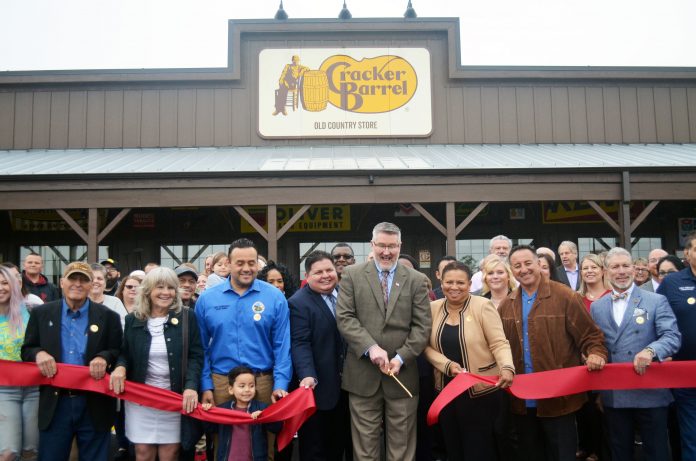 On Monday, May 13 Rialto became a media and dining hot spot as the second Cracker Barrel Restaurant and Country Store opened in Southern California. Poised at the new popular 210 freeway offramp Ayala Ave., the latest addition to the Cracker Barrel company and the newest restaurant to open hit the Rialto landscape.
"This is a fantastic day, we are excited to be the only city to have a Cracker Barrel in the Metro Valley," said Rialto Mayor Deborah Robertson, who indicated that this development was made possible by the city attending the ICSC: International Council of Shopping Centers. Mayor Robertson thanked Development Services Director Robb Steel and developer Fernando Acosta for working so hard to make this new restaurant possible.

This Cracker Barrel brings yet another amazing dining option to the city of Rialto. Two years ago then-City Administrator Mike Story held a community meeting to see what Rialto residents wanted to see being brought to the city. The number one item was more restaurants and Cracker Barrel is just one of many new options that have been added to the landscape since that meeting.
Cracker Barrel is a popular destination restaurant that will pull diners in from all over the region. Another key offering that Cracker Barrel brings is jobs. This one store will provide approximately 175 new full- and part-time jobs in the Rialto area.
The store also follows other new openings such as the Cinemark theatre and Miguel's Jr. as they have incorporated Rialto's history and popular elements into the location's décor. Several walls in this store are dedicated to celebrating the Rialto community, including authentic artifacts that pay homage to the area's proximity to the motion picture industry, stop along the Southern Pacific Railway, California's history of gold mining, and more.
The store, located at 1080 W. Renaissance Pkwy, will be open seven days a week from 6 a.m. to 10 p.m. Sunday through Thursday, and from 6 a.m. to 11 p.m. Friday and Saturday 364 days a year (closed only Christmas day).
For reservations or more information, call (909) 350-3902.