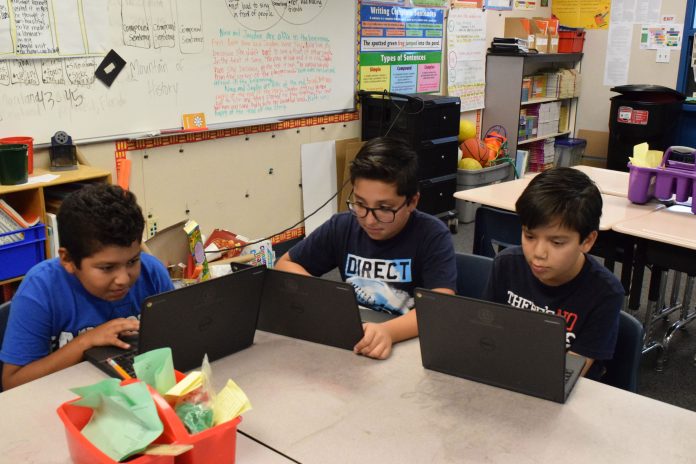 Monday afternoons at Crestmore Elementary school are a time of innovation. That's when Yvette Mezzanatto's classroom is transformed into the Crestmore Coding Club, a place where 3rd, 4th and 5th graders come to learn and experiment with coding.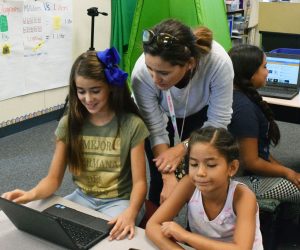 Mezzanatto developed the club last year with her third grade students and has since expanded it to include fourth and fifth graders.

On one recent fall afternoon, students are working on developing their own video games using a program called "Scratch." Mezzanatto has given her students a challenge: To create a boat race game in which you have to avoid objects. Students deftly take on the challenge; creating boats of various designs, crafting a "course" and introducing objects that might get in the boat's way. Those who are more adventurous even program sounds for the ship to make when it crashes into the obstacles.
Garrett Lundgren, 9, explains that "coding is where you go into the brain of a game and make it move and do cool stuff."
"It's kind of hard," noted 8-year-old Natalie Vasquez, but when you're done, you say, 'oh, that's so good. I'm proud of myself.'"
The Crestmore Coding Club is just one of many ways Colton Joint Unified School District schools are preparing students for the future. CJUSD has signed the Future Ready Pledge, a commitment by the Board and Superintendent to develop personalized learning environments through the use of technology. The district is also working toward digital equity for all students, ensuring that every child, regardless of their socioeconomic background, has access to technology inside and outside of the classroom. Access to technology has been proven to be a powerful tool in closing the achievement gap.
Participation in the Crestmore Coding Club supports several academic skills, but Mrs. Mezzanatto said she has noted many other substantial benefits as well.
"It helps them with their esteem. It improves critical thinking. It shows them to be determined and not give up. It's something they can enjoy that they can do together. They become a community."