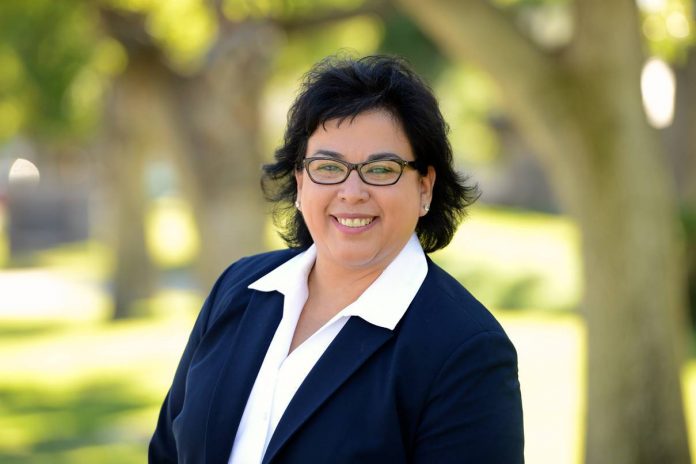 Diana Z. Rodriguez, President of San Bernardino Valley College, was named 2018 Woman of the Year by California's 47th Assembly District today, Tuesday, Mar. 13, at a special ceremony in the State Capitol. She was presented with the award by Assemblymember Eloise Gómez Reyes, who is herself an SBVC alumna.
"Diana is a perfect example of a champion for the Inland Empire," said Reyes in an announcement on her Facebook page.

The 2018 Woman of the Year Award, which recognizes women in the 47th Assembly District for accomplishments in their respective fields and for their dedication to improving the lives of others, received fifty-two nominations from throughout the community. Nominees came from a variety of different backgrounds, ranging from educators and community advocates to county employees, students, business owners and heads of local nonprofits.
The award is one of several recognitions Rodriguez has received in less than two years since becoming the first Latina president of San Bernardino Valley College. In 2017, she received the Legacy of Service Award from the Librería Del Pueblo, a local community services agency.
Rodriguez is a native of Southern California, a second-generation Mexican-American and a first-generation community college student, which mirrors the social and cultural background of a vast majority of the community college students in the region.
Since assuming leadership of San Bernardino Valley College in 2016, she has established a track record of increasing student enrollment, advocating for institutional innovation and professional development, and successfully mobilizing campus-wide support for student success-related initiatives. In 2017, San Bernardino Valley College graduated the largest class in its 90-year history, thanks in part to initiatives promoted by Rodriguez.
"It is an immense privilege to be recognized among such an outstanding group of community leaders," said Rodriguez. "I am truly honored to be working alongside some of the most passionate community advocates and change-makers in California, without which none of this would be possible."