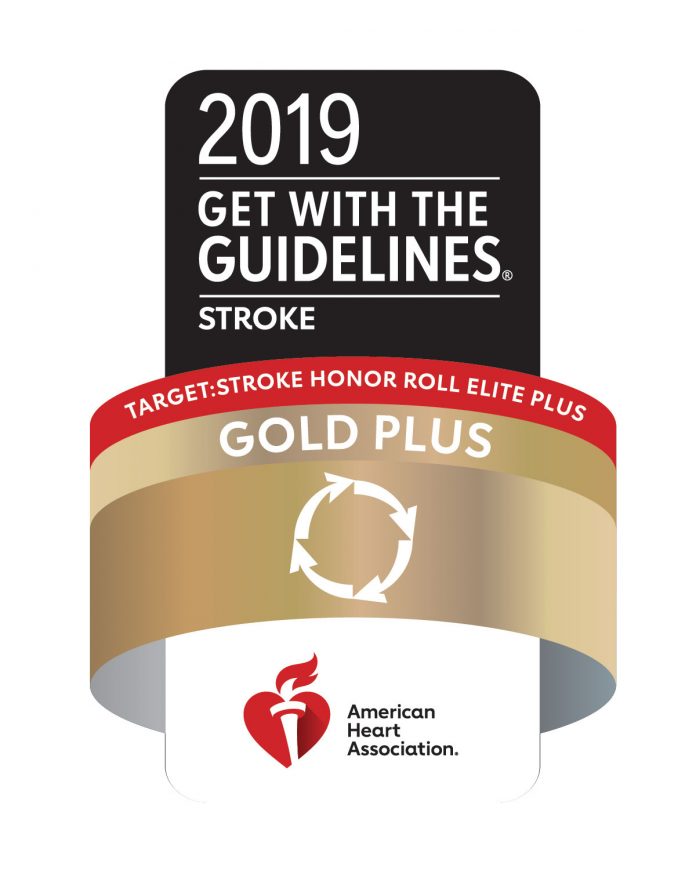 Dignity Health – St. Bernardine Medical Center (SBMC) has received the American Heart Association/American Stroke Association 2019 Get With The Guidelines® – Stroke Gold Plus Quality Achievement Award and also qualified for recognition on the Target: Stroke Honor Roll. This award recognizes SBMC's commitment and success in implementing a high standard of stroke care by ensuring that their stroke patients receive treatment that meets nationally accepted, evidence-based standards and recommendations.
"This recognition from the American Heart Association further validates our commitment to delivering advanced stroke treatment to patients quickly and safely," said SBMC Hospital President Douglas Kleam. "Most importantly, the tools and resources this program provides help us track and measure our success in meeting evidenced-based clinical guidelines to improve patient outcomes."

According to the American Heart Association/American Stroke Association, stroke is the number five cause of death and a leading cause of adult disability in the United States. On average, someone in the U.S. suffers a stroke every 40 seconds, someone dies of a stroke every four minutes, and nearly 800,000 people suffer a new or recurrent stroke each year.
SBMC earned the award by meeting specific quality achievement measures for the diagnosis and treatment of stroke patients at a set level for a designated period. These quality measures are designed to help hospital teams follow the most up-to-date, evidence-based guidelines with the goal of speeding recovery, and reducing death and disability for stroke patients. "We are pleased to recognize St. Bernardine Medical Center for its commitment to stroke care," said Eric E. Smith, MD, National Chairman of the Get With The Guidelines Steering Committee. "Research shows that hospitals adhering to clinical measures through the Get With The Guidelines quality improvement initiative can often see fewer readmissions and lower mortality rates."