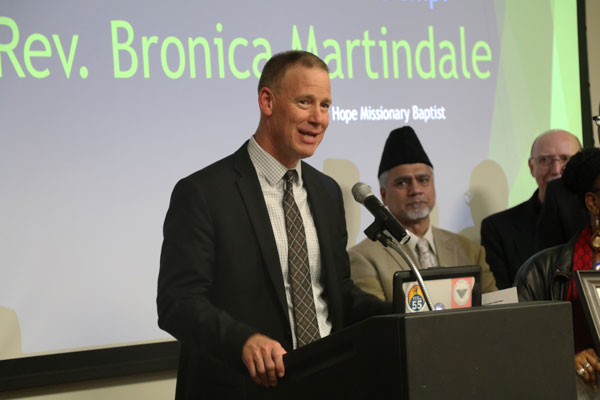 The Inland Congregations United for Change held an appreciation dinner Monday to thank San Bernardino city leaders, law enforcement, and school district officials for their help with addressing homicides and suspension rates.
"Education is the key to keeping people out of trouble," said Deacon Nelson Glass to the crowd at the Diocese of San Bernardino. "We have to get [people] back into schools and into employment."

Most of the evening's discussion concentrated on the accomplishments of ICUC and partners, particularly the implementation of the Violence Intervention Program and the reduction of suspension rates and increase in graduation rates.
How to curb homicides is something residents, faith-based leaders, community organizers, city officials, and law enforcement officers have struggled with for decades. There's been about 530 gun deaths since 2005, said faith-based leader Dawn Thomas.
"The cost of homicide is up," she said. "It takes a tremendous toll on the livelihood of the community."
Three years ago ICUC and other partners began holding "Common Ground for Peace" walks across the city in hopes of engaging residents on the issue of gun violence. After long discussions, the San Bernardino City Council last year approved a contract to work with California Partnership for Safer Communities (CPSC) to deal with crime and violence.
CPSC has helped implement effective Ceasefire programs in high crime areas like Oakland and Stockton.
Those programs are not so much focused on enforcement, but more on intervention and prevention. Intervention specialists employed through the city would use educational, employment programs, or social services to help those at-risk of committing violent crime.
"The goal is to intervene before criminal behavior begins or relapse occurs," said Thomas.
San Bernardino Police Chief Jarrod Burguan thanked ICUC for their continuing commitment in making the city a better place.
"You're never going to make a community what it should be if you think if the police department is fully responsibly to make those things happen," he said. "It only happens when the community is involved, invested, and a part of the solution."
San Bernardino City Unified School District Superintendent Dr. Dale Marsden said six years ago they had among the highest suspension and expulsion rates in the state. Because of ICUC parent volunteers like Elizabeth Romero and other leaders, SBCUSD holds an 89 percent graduation rate.
"I look forward to many more years of working to do what's right for the city," Marsden said.