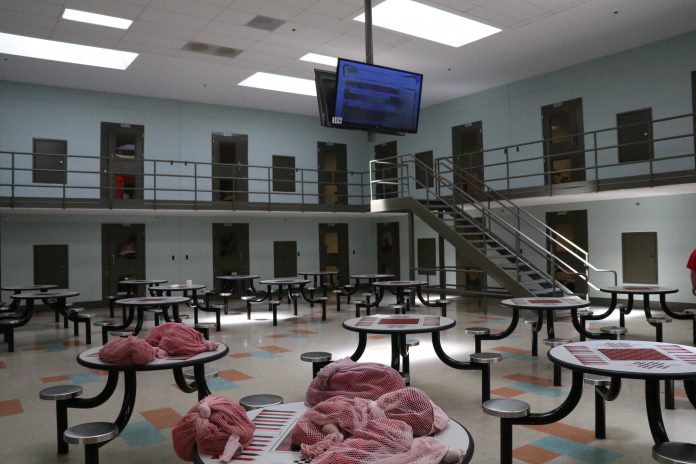 The U.S. Department of Justice (DOJ) announced Thursday that it will end its partnership with private prison corporations.
Deputy Attorney General Sally Yates released a memo that directs officials to decline the renewal of contracts for private prison operators. Yates wrote that DOJ's goal is to reduce and end the department's use of private prisons.

"They simply do not provide the same level of correctional services, programs, and resources; they do not save substantially on costs; and as noted in a recent report by the Department's Office of Inspector General, they do not maintain the same level of safety and security," Yates wrote.
According to Immigration and Customs Enforcement (ICE) spokesperson Virginia Kice, the decision doesn't impact facilities that house immigration detainees for the Department of Homeland Security.
Kice said the department remains committed to providing a safe and humane environment for detainees in custody.
"For individuals in its custody, ICE seeks to reduce transfers, maximize access to counsel and visitation, promote recreation, improve conditions of confinement and ensure quality medical, mental health and dental care," Kice expressed in a written statement.
While immigrant rights organizers are pleased with the Federal government's decision to end its use of private prisons, they remain frustrated that immigrant detention centers are being left out of the conversation.
"It's a positive step in the right direction," said San Bernardino Community Service Center Executive Director Emilio Amaya.  "But we're not clear if this will apply to immigrant detention centers."
Immigrant rights advocates continue to heavily scrutinize the facility for its alleged lack of oversight and mistreatment of detainees.
In their report, Abuse in Adelanto: An Investigation Into a California Town's Immigration Jail,  the Community Initiatives for Visiting Immigrants in Confinement (CIVIC) found that the top three complaints among immigrant detainees at the GEO Group operated Adelanto Detention Facility deals with prolonged detention, medical abuse and neglect, and a lack of access to legal representation.
CIVIC also found that there were cases of extreme physical abuse by staff that led to serious injuries and death. The facility's failure to deny medical and mental health services to detainees led to the direct death of one man, Fernando Dominguez in 2012, and may have been a factor in the death of Raul Ernesto Morales-Ramos in February 2015.
Kice said ICE provides several levels of oversight to ensure that detainees are under appropriate conditions of confinement. The Office of Detention Oversight (ODO), for example, is responsible for conducting independent reviews of ICE detention facilities to assess their compliance with national detention standards.
ODO reports are available for public viewing on ICE's website. "ODO's findings, coupled with regular onsite inspections, enable ICE to isolate and quickly address any operating deficiencies identified at its detention facilities," an unknown ICE official said in a press statement.
Amaya said that immigrant advocates will be deliberating in coming weeks to strategize on how they can pressure the government to take action on immigrant detention centers.
"We're pushing this forward to ensure it does happen," Amaya said. "I think we need to make sure this decision also applies to immigrant detention centers."