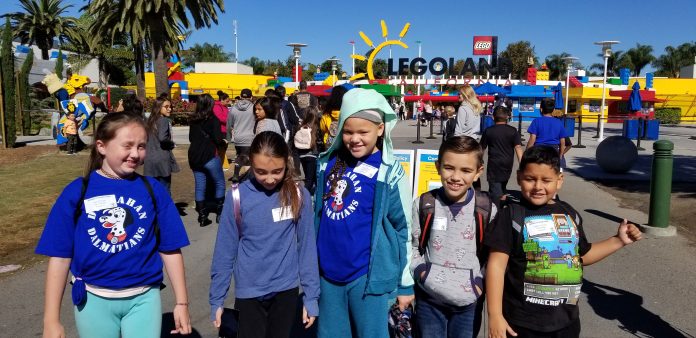 On October 17, fourth, fifth, and sixth grade students at Dollahan Elementary School who met, exceeded or showed improvement on the California Assessment of Student Performance and Progress (CAASPP) exam were rewarded with a day at Legoland.
"Last year we put together a testing plan with different ways that we could prepare students, parents and staff, and one idea was building some incentives. We decided to take students who had a combination of exceeding, having met or showed growth in the past year in the English/language arts and math portions of the state test a trip to Legoland," said Dollahan Elementary School Principal Mr. Husbands.

He said once the school received the final CAASPP test results in October, they analyzed all the data and found monumental results.
"We had 129 students who achieved that goal. Each were given the opportunity to attend the trip for free; we provided tickets and bus arrangements," continued Husbands.
Students were excused from class for the day and previous Dollahan Eementary School students who are now in middle school, were contacted and also excused from school for the day.
"At Legoland we participated in team based activities and a workshop. Then after, students had the opportunity to explore the theme park," said Husbands.
He said what the school wants to see is progress in performance in everyday activities during the school year.
"We provided an incentive, because state testing is strenuous. To motivate the students to persevere…they assess for eight days in a row; four days for language and four for math," Husbands said.
He says the school plans to give the same type of incentive to students when next year's testing rolls around during late April 2019.
"The students loved the incentive. They were very happy and expressed a lot of gratitude for having the opportunity," concluded Husbands.