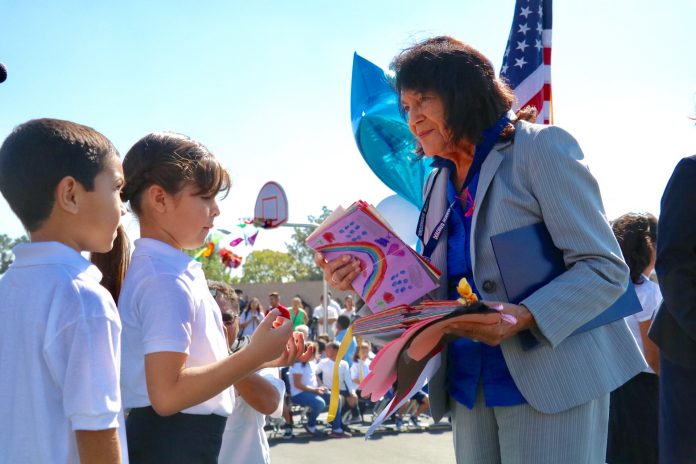 FONTANA- Today Dolores Huerta, the renowned civil rights activist, visited a state-of-the-art school named after her.
Students, parents, and community leaders greeted Huerta with songs and words of praise. "Thank you to all you students," Huerta said. "I'm honored that you chose to have this beautiful school dedicated in my name."

The Dolores Huerta International Academy was opened in August to kindergarten through third grade students in the Fontana Unified School District. School officials emphasized the site's English/Spanish dual immersion program and pre-International Baccalaureate (IB) magnet programs, which they say will contribute to a "great change" in children's lives.
"We will equip our children with a global mentality," said Fontana Unified School District Board President Lorena Corona. "It is a great day because you (parents and community) chose to collaborate with us."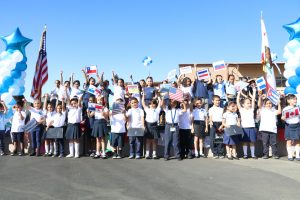 Huerta, 86, formed the National Farmworkers' Association (which later merged into the United Farm Workers) in the early 1960s along with Cesar Chavez. Throughout her life she has advocated for workers, immigrants, and women's rights across the country. Huerta was awarded the Presidential Medal of Freedom by Barack Obama in 2012.
Huerta hailed the district for thinking "globally" and encouraging the community to be engaged with the education system. She also outlined the importance of being bilingual.
"There used to be a time in California when people said we needed English Only," she said. "It damaged many of our children.This school is saying, 'You know what? We can learn as well in English as we are in Spanish.' I'm so glad that this district is investing as much as they can to ensure these kids are prepared for college and the world."
Mayra Ramos, whose two children attend the academy, said she hopes Huerta's words inspire them to do well in school. "I hope they seek inspiration, and see a little bit of themselves in her."
Ramos expressed her delight of the academy's curriculum, which she believes could contribute to her children's academic development.
"It's a blessing that they are here," she said. "They will be able to learn two languages and understand the importance of working with others to improve their communities."