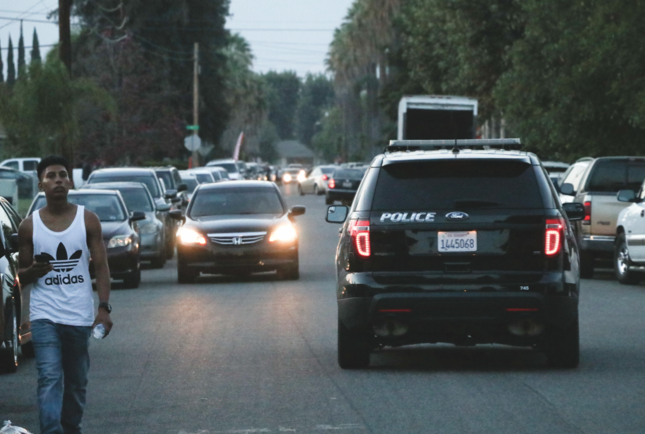 Colton's police and fire departments patrolled city streets during the July 4 weekend, seizing illegal fireworks and extinguishing fires that may have been caused by their use.
Police Chief Mark Owens said 15 officers and five firefighters assigned to the firework detail handed 45 administrative ($1000) citations to residents possessing illegal fireworks–20 less than last year.

Firefighters responded to two dumpster and two palm tree fires that were possibly related to firework use. In addition, Owens said an electric transformer may have been ruined due to pyrotechnics.
Those numbers did not include public safety personnel conducting regular operations throughout neighborhoods, the Chief explained. Police officers working the overnight shift responded to 87 firework calls.
Owens revealed that officers and firefighters struggled to differentiate between 'safe and sane' and illegal fireworks–making it difficult for them enforce efficiently.
"We tried all year to educate people on the difference by providing information in utility bills and through other means," he said. "It may have had an effect, but we're not quite sure."
Additionally, there were incidents where residents reportedly ignored public safety commands and retaliated against police officers. One police vehicle had its rear window shattered by a rock thrown by an unknown suspect, Owens said. Others initially complied when cited or warned about their illegal firework use, but eventually lit bottle rockets and explosives when officers left the scene.
"We understand that people just want to have a good time," said Owens. "But they forget the risks. They are putting themselves and others in danger."
Councilman David Toro–an equally frustrated city leader–said he repeatedly scraped firework shells off of his roof leading up to and after July 4. He said he received dozens of complaints from neighbors that ranged from debris issues to losing pets.
"I felt like what they did is equivalent to someone flipping us off," Toro said of illegal firework users. "As soon as the police would leave they would light another one. It's blatant disrespect."
Toro asserted his commitment to working with Owens, City Manager Bill Smith, and the City Council to brainstorm on how to reduce illegal firework use. The First District representative instituted a self-imposed three year period to come up with a viable solution.
"If we cannot lessen the blow and curtail this illegal firework issue, then I believe we should consider an outright ban," Toro said. "There's no consideration for other people's safety. Something has to be done."