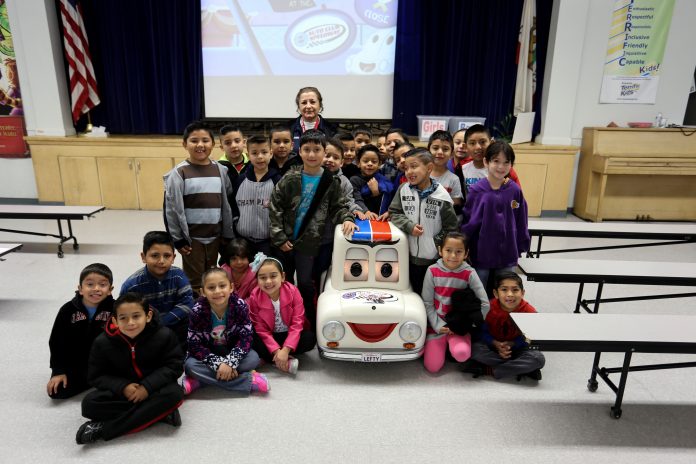 A perk for elementary schools registering early for Auto Club Speedway's free literacy program, Lefty's Reading Challenge, is having the chance for school representatives to take "hot laps" around the superspeedway at speeds over 100 mph in the official NASCAR Toyota Camry Pace Car. Speedway officials are expecting to have over 100 elementary school teachers, principals and faculty participate.
To be eligible to take hot laps, elementary schools will need to register online for Lefty's Reading Challenge by September 14 on the new website – www.leftysreadingchallenge.com – a resource for parents and teachers to download materials, see upcoming events such as school assemblies and FAQs about the literacy program.

Lefty's Reading Challenge has an average of 220 elementary schools in San Bernardino, Riverside, Los Angeles and Orange Counties annually. Over the past nine years, Lefty's Reading Challenge has been touted by educators as a useful tool to stimulate reading and is in compliance with the Common Core State Standards (CCSS) requirements.
The month-long reading challenge will be held January 14-February 8, 2019 where students read to win money for their libraries, school-wide pizza parties and free NASCAR race tickets for staff, students and parents.
Lefty's Reading Challenge, part of Auto Club Speedway's youth initiative, Lefty's Kids Club, provides youth with a positive and enriching outlook on life inspiring achievement and education in an effort to build future race fans.
In addition to Lefty's Reading Challenge, Lefty's Kids Club has several activities planned including Lefty's Track Day on September 12. The public is welcome to drive the track to raise funds for the local elementary school libraries through Auto Club Speedway Foundation benefiting Lefty's Reading Challenge.