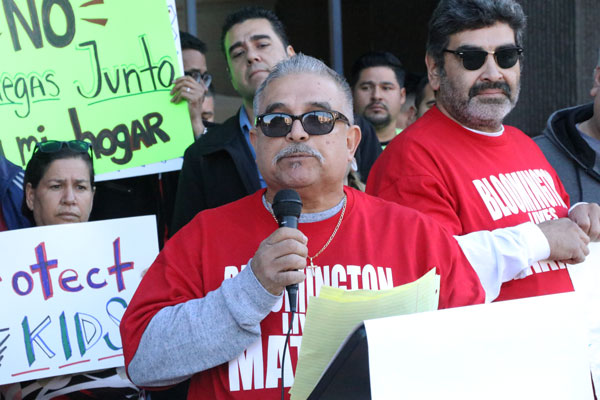 Environmental advocates and families gathered outside the San Bernardino County Government Center on Tuesday to protest warehouse development plans near two schools in Bloomington.
 "Our lungs are not for sale," said Thomas Rocha, a Bloomington resident. "Yes we want you to invest in our town. But warehouses are not the answer."

 As they have done with other proposed projects in the area, the Center for Community Action and Environmental Justice (CCAEJ) are helping residents address their concerns with diesel pollution and respiratory illnesses to the Board of Supervisors.
 This time residents are speaking out against the proposed Slover Distribution Center, which will be constructed on parcels of land several feet away from homes and thousands of feet from Bloomington High School and Ruth O. Harris Middle School.
 According to an Environmental Checklist form produced by County Planner Kevin White, the County is seeking to change the zoning on the land sitting on the corner of Laurel and Slover Avenues from residential to industrial to put up a 344,000 square-foot warehouse.
 One mother fought tears away as she shared the story of her son–an asthmatic boy that suffers from severe breathing complications.
 "You want to add more warehouses?" said Jessica Rodriguez. "You're going to end up killing my son. If that does happen, you'll be the first person I invite to the funeral."
 Members of the Bloomington Municipal Advisory Council have been critical of CCAEJ's efforts. They say that they do not see the value in the property tax generation warehouse development provides to municipalities.
 It's not that they don't see the value in development, argued CCAEJ organizer Ericka Flores.
 "We have never been against development," she said. "However, there are places for these warehouses to be built. It is not OK that the land use is being changed to industrial so close to homes."
 County officials told environmental advocates they would reach out for more input.