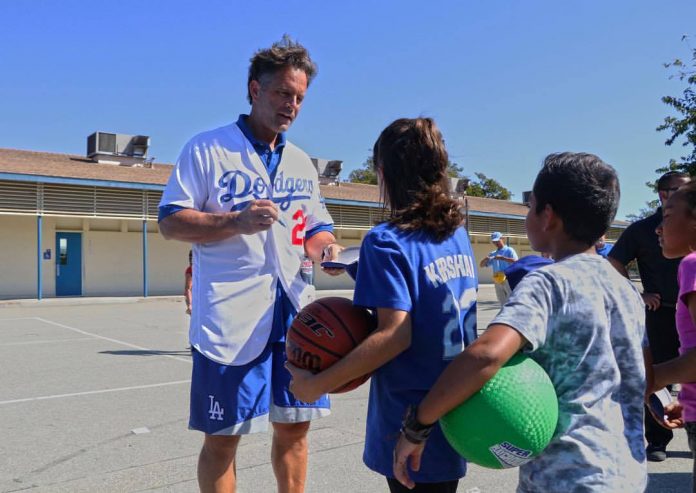 Former Los Angeles Dodgers first baseman Eric Karros, with the help of Southern California Honda Dealers, surprised dozens of Colton students with new equipment on Tuesday morning.
Over $5,000 of sports equipment–basketballs, baseballs, bats, soccer balls, footballs, and other equipment–were donated to several classrooms at Ulysses S. Grant Elementary School by SoCal Honda. The children frolicked the playground with their new equipment and played catch with Karros.

Fourth grade teacher Bernadette Pedroza was the person responsible for reaching out for support, said a spokesperson from SoCal Honda.
Pedroza said an advertisement during a Dodgers game propelled her to ask for help. Many of the students were lacking the equipment necessary to engage in physical education, she explained.
"We saw that there was a need for this equipment," Pedroza expressed. "This donation is a great thing. [The kids] know they can always count on someone to help them."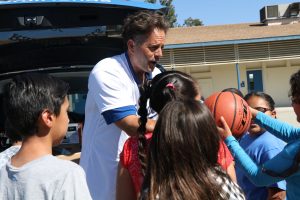 "The Helpful Honda" crew drove in two Honda Odyssey vans full of equipment and toys to the playground at Grant. Once there they greeted the thirty or so students and introduced Karros.
"Look at all these balls and toys," said Karros. "Should we get them out? Or do we just want to sit here?"
After receiving the equipment, along with autographed Dodgers hats and baseballs, the students delivered a 'thank you' letter to Karros and acknowledged the Helpful Honda crew for their donation.
"We had no balls or equipment before," explained 9-year-old Lucas Duran. "We didn't have any ball to play four square with. It's exciting to have equipment like this."
Having access to sports equipment will ensure these students stay active and fit, Grant Elementary School Principal Kathleen Houle-Jackson believes.
"You can feel the [positive]," said Houle-Jackson. "When they play, they have healthy minds and healthy bodies. I'm really glad to be a part of this."
Karros, who was the National League Rookie of the Year in 1992, had a departing message for the children: "Listen to your teachers, do well in school, and root for the Dodgers."
---
Join our newsletter for weekly wrap-ups of our community coverage, exclusive advertising opportunities and local business specials!