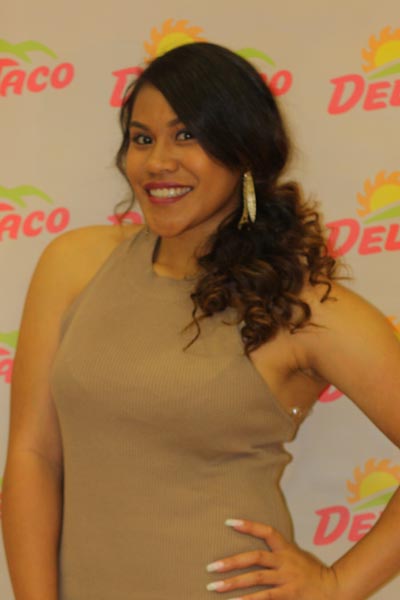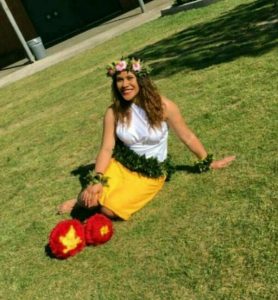 Eisenhower High School Ken Hubbs Award nominee Ana Faalaulau used every last minute of her prep career. From 22-hour days competing at far away choir contests, to leading the basketball and volleyball teams in scoring, onto serving as sergeant in ROTC and Sheriff's Academy. On a moment's notice, Faalaulau could sing the national anthem before sporting events and was Ike's 2017 female athlete of the year and won the school's annual talent contest.
Faalaulau (Fah-ah-lah-oo-lah-oo) said she crammed so much into her high school career that it caused serious worry from her mother and father.

"My parents are from Tonga and Samoa where traditional cultural and religious values are followed. They couldn't understand why I was putting school activities above our family," explained Faalaulau. "I finally had to have a talk with them. It was challenging. I told them to not make plans for me, that I was going to focus on my senior year, that it would help me in the future."
She said her mother finally realized the long hours were worth while when the two attended the Ken Hubbs Award presentations in May. Faalaulau knew that being honored by the Hubbs Foundation was a big deal, however was shocked when she walked into the capacity-filled Ken Hubbs Gym at Colton High.
"My mother did not expect something like that and I did not either. All those tall athletes. It was crazy. That's when my mother finally realized that all my hours away finally paid off."
Faalaulau has enlisted in the Army and is awaiting her assignment to basic training.
Ike's athletic director Gilbert Pulido wrote that his former student was not just a four-year star athlete but "was blessed with a great voice." Faalaulau says she might become an Army drill instructor or trainer, or could become a singer in the Army "if the topic comes up."
She credited her teachers and Ike's athletic trainer Leslie Brown for giving her good advice. She learned from ROTC to be prepared for any last minute duties, albeit by making a last minute basket or spike, or by filling in as an entertainer on campus.
"This year I sang on Eisenhower's Senior Scholarship Awards Night. I found out the day before," recalled Faalaulau. "They asked me to pick a song, so I picked "Breakaway" by Kelly Clarkson. I rehearsed and rehearsed. I was nervous. But I memorized the lyrics in one day and did it without looking down. I was able to look at the people and give them a true live performance."
Being a fast learner helped Faalaulau earn that kind of responsibility at Ike, where she often filled the role of peer teacher. She would teach others ROTC marching drills or coordinate pep rallies and showcases as President of Ike's Pacific Islanders Club, a cultural group started by her aunt, Queen Matusau about 20 years ago.
Pulido wrote that Faalaulau was also a huge presence in the Rialto community, where through her Helping Hands Church she assisted to clean, paint local parks, plant trees and help the needy. "Our ROTC class did of lot work in the community, too."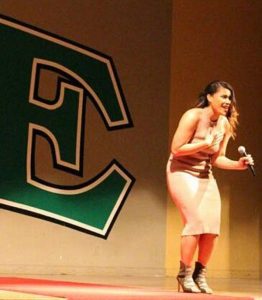 She has healed enough from ACL injuries to both knees to currently be a starter on the Corona Scarlet's Rugby Team, a national sport in Samoa that is just emerging in America. Faalaulau says her favorite moments in high school came when she scored the winning points against Carter and Rialto to give Eisenhower the city high school volleyball championship.
"The volleyball match against Carter happened before a huge crowd in their gym on Senior Night."