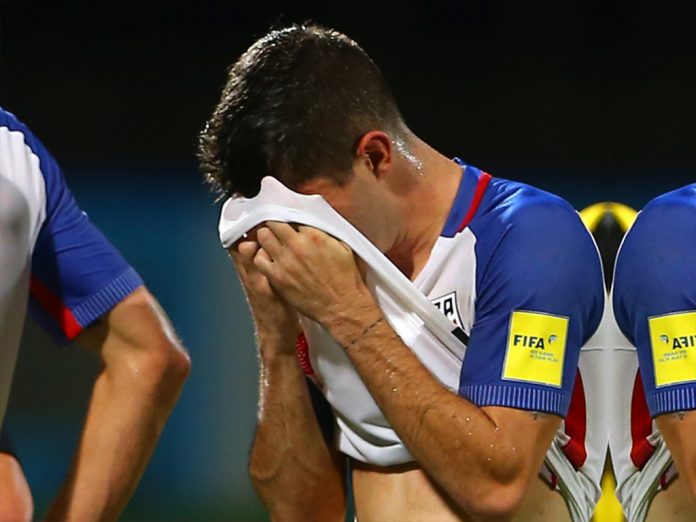 Where were you in '86?
If you were alive, cigarettes were 80 cents a pack. People used cassette tapes, the VCR and Ronald Reagan was president.

It was also the last time the U.S. failed to qualify for the FIFA World Cup.
The men's squad dropped a dismal 2-1 game to a little known Caribbean nation and the loss allowed Honduras and Panama to try their chance at the big dance along with Mexico and Costa Rica.
What the heck has happened to U.S. Soccer anyway–at least where the men are concerned?
The sport in general has largely failed to capitalize on the tempered success of Major League Soccer.
The league long has become a nursing home for world soccer 'has beens.' The U.S. is where most of Europe sends its older and slower superstars of yesteryear.
What does it say when the National Team Coach is also recycled?
When the Federation decided to replace fired Manager Jurgen Klinsmann last year, the best they could do was hire Bruce Arena, also a 'has been' coach of yesteryear.
Notice a theme here?
Yes. The U.S. desperately needs new blood. New and fresh talent to compliment current superstars in Christian Pulisic, Bobby Wood, and others.
The whole bench needs to be cleared to the showers. Anyone older than, say, 25 must hang up his cleats for good. Keeping players like Michael Bradley, Tim Howard, Jozy Altidore, and Clint Dempsey would be a devastating mistake. While they showed glimpses of talent during regional tournaments and some qualifiers, they flopped when they were needed most.
How is the U.S. going to keep up with perennial powerhouses Brazil, Germany, and Spain if we're not investing in the future? We were already considered minnows before on the world soccer stage. Tuesday's defeat demonstrated that soccer's progress in this country continues to be hindered by a lack of talent and shortage of leadership.
ESPN soccer analyst and former player Taylor Twellman put it succinctly: "If this failure does not wake up everyone from U.S. Soccer to Major League Soccer, from pay to play to broadcasters, to everything, then we are all insane. The definition of insanity is doing the exact same thing, knowing the result. If we don't change it, I mean everyone in U.S. soccer, what's the point?"
To see improvement, the U.S. game will need to reinvent itself. Sunil Gulati, the president of the U.S. Soccer federation, must concede to the public's demands and resign from his position. His replacement needs to be a leader–willing to be held accountable by fans and bold enough to make strong decisions.
Soccer in this country has come a long way, and will continue to make inroads, so long as youth development remains a key focus. In less than a decade, the U.S. may yet again host the FIFA World Cup. The adolescents enrolled in American soccer academies will be suiting up for the Stars and Stripes in 2026. It's vital to ensure we continue to invest in their growth.
The failure in Trinidad and Tobago indicates U.S. Soccer is in need of a desperate change–adjustments that will eradicate defeatist elements and focus on building winners.
---
Join our newsletter for weekly wrap-ups of our community coverage, exclusive advertising opportunities and local business specials!