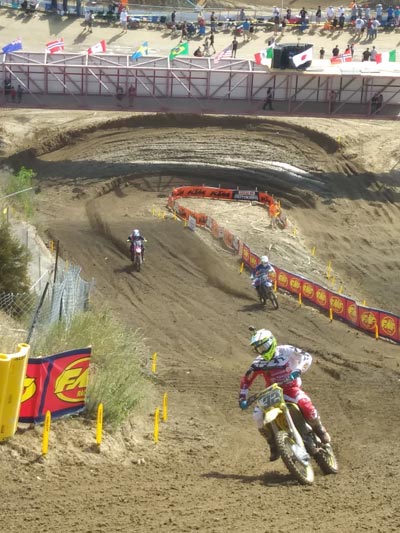 Glen Helen Raceway is a great way for the family to spend the weekend camping, barbecuing, and watching the best dirt bike riders battle it out for supremacy.  Put it on your calendar for next year.
Two main races were held on May 26, the 250cc bikes and the 450cc bikes.  This was the second round of the series and everyone was ready to take their best shot to become the next champion.

A third race was held, one moto of the old 2 stroke dirt bikes.  It is nostalgic and fun to hear and smell the "two-smokes" as they negotiate the challenging and famous Glen Helen circuit, and it is worth the price of admission alone.
The first race of the day was moto 1 of the 250 class.  Defending champion Zach Osbourne dominated round one in Hangtown the previous week, but an injury sustained during the week's practice.
Aaron Plessinger rode incredibly, winning both motos on the day and grabbing a hold on the championship point lead.  Plessinger was in control all day, keeping all challengers from any chance to challenge him.  Number one plate holder Zach Osbourne (2-5 for 4thoverall) made a charge at the end of the first moto, but he ended up going down and settled for second place.
Alex Martin took second place overall, finishing 3rdin each moto. There were times it looked like he could challenge for second place, but he could not make it happen.  His brother, Jeremy Martin, finished third overall with 5-2 finishes.  Jeremy has won the championship previously, so he knows how to get the job done. What is fun is the banter between these two in the pits and in the media tent; brothers will be brothers.
The premier class featured superstars like defending champion Eli Tomac, Ken Roczen, Marvin Musquin, and just crowned Supercross champion Jason Anderson.   More importantly we had some hometown heroes who are start in AMA Motocross:  Blake Baggett, Weston Peick, Brandon Scharer, and Dylan Merriam to name a few.
Moto one was spectactular. Ken Roczen, who Eil Tomac said has "been to hell and back" with his arm injuries, grabbed the lead.  Roczen is a young man who, about a year ago, was unsure if he would have his arm amputated or not.  At Glen Helen in round two, again he was in front of Eli Tomac, and stayed there for 7 laps.  The fans enjoyed the duel, cheering and Tomac would close, but Roczen would fight him off. Tomac finally took the lead and stayed there.  Marvin Musquin squeezed into second place, and Roczen held on to third.
The second moto saw Supercross champion Jason Anderson get into the lead.  Eli Tomac fought his way up to second but was twelve seconds behind with only a few laps to go, too far behind…or so it seemed.  Somehow, late in the day when the track is at it's roughest and toughest, Tomac found another gear.  He caught up to and passes Anderson.  This gave him the overall win on the day with two moto wins.  Marvin Musquin finished second overall with his 2-3 moto scores.  Jason Anderson earned third with 4-2 moto scores.
Our local heroes were courageous.  Weston Peick is still recovering from a significant hand injury but still managed a sixth overall finish.  Right behind him was Blake Baggett.  Baggett went down right away on the first lap of moto two.  The left grip was torn off his handle bar.  He got up and a charged his way up to 9th.  Gusty, impressive, intense…there are not enough superlatives to describe Baggett's effort in the second moto when misfortune tried to get him to quit.
Fun for all ages was to be found at Glen Helen Raceway.  Look at www.glenhelen.comand go to a local race with the family.  Camp out and feel the speed.  See you at the races!
By Joaquin Juarez