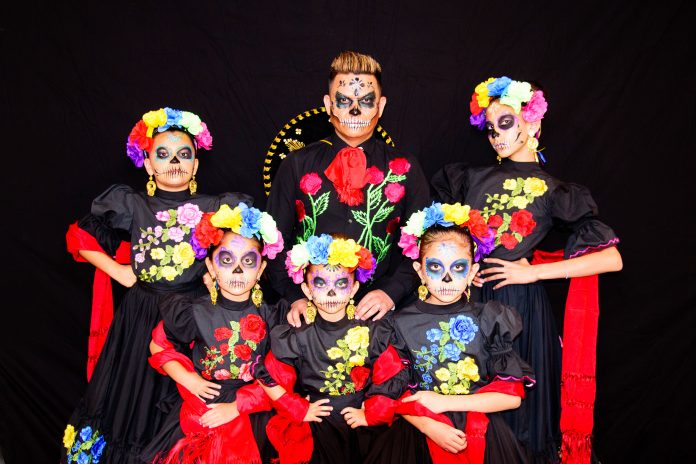 Gary Ferrer and his folklórico group, St. John's Angels, will be featured during Division 9 Gallery's 15th Annual Día de los Muertos (Day of the Dead) celebration in historic downtown Riverside on Market Street (between University Avenue and 14th Street) on Saturday, Nov. 3 from 1 – 10 p.m. The public is invited to participate in this free, traditional Mexican celebration with a cultural tribute that celebrates life and death with respect and reverence.
The 30-year-old San Bernardino resident had established himself as a talented photographer in the Los Angeles area in 2016 and was also a fitness instructor. However, a battle with meningitis in December of that year left his brain swollen and Ferrer lost his eyesight.

With the support of husband Ivan Resendez, Ferrer found a new focus and embraced his love of dance and today teaches Zumba and folklórico classes daily for free at St. John's Episcopal Church in San Bernardino. The youth group has performed throughout Southern California at venues that include the Orange County Fair, Plaza Olvera in Los Angeles, and the Riverside Festival of Lights, and regularly volunteer at community cleanup events.
An integral part of a Día de los Muertos celebration is the procession that guides the spirits to the location of the festivities. On Saturday that procession will begin at 6:30 p.m. Tio's Tacos, 3948 Mission Inn Avenue. Members of the community are welcome to join the procession of Aztec dancers, la Catrina and el Catrin, families, and friends as they walk down Mission Inn Avenue and Market Street in solemn remembrance.
Participants are encouraged to wear costumes, masks, face paintings, or their own version of la Catrina or el Catrin. The procession ends at the community stage where the Aztec "danzas" will perform to invite the spirits of the deceased to dance and rejoice during this symbolic annual reunion.
"Día de los Muertos is a celebration of remembering somebody special," explained Cósme Cordova who created the annual event. "It's a realization that there's a connection. We incorporate art, music, dance – like a party with respect and reverence."
For more information about the event, call (951) 784-3111, or visit www.riversidedayofthedead.com.