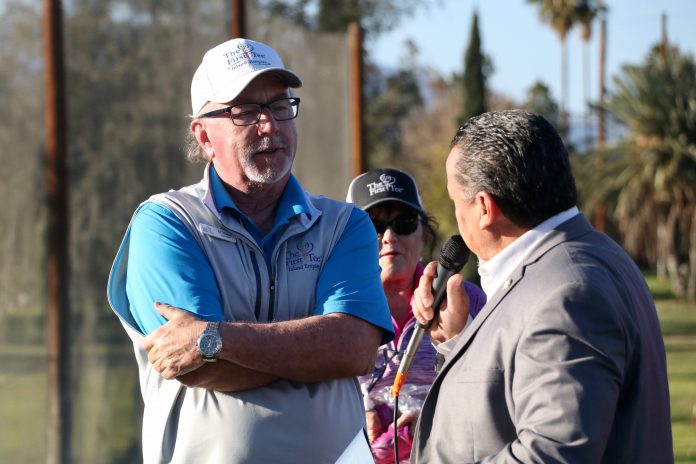 With the help of several community organizations and stakeholders, First Tee of the Inland Empire is helping thousands of Inland youth ages 6 and up receive first class instruction in the game of golf, while also receiving mentorship from coaches.
Dozens of young golfers participated in a ceremonial tee off at the Colton Golf Course Tuesday to mark the commencement of the First Tee of the Inland Empire's curriculum and training in the city.

"I don't care if a kid can hit a golf club," First Tee IE President JT Visbal. "What I really want them to understand is about integrity. We need to teach kids to be honest in life."
First Tee Inland Empire became the seventh chapter established in Southern California when it was recognized by the national organization last year. The six other chapters are in Orange County, San Diego, Los Angeles, South Los Angeles, Pasadena, and in the Coachella Valley.
The organization's model of youth engagement teaches young golfers nine core values: respect, integrity honesty, sportsmanship, confidence, responsibility, perseverance, courtesy, and judgement. In addition to learning how to hit a golf ball, children are learning to manage their emotions, set goals, resolve conflicts, and communicate.
Junior World Champion golfer Amari Avery, 14, of Riverside stopped by the Colton Golf Course on Thursday to give the local youth some tips on improving their confidence.
"You don't hang on to bad attitudes on holes or scores," said Avery. "It just holds up your momentum and your play."
Cynthia Frazier said her 14-year-old son Andre has benefited greatly from participating in the athletic program.
"We tend to ignore the opportunities we're not familiar with," Frazier said. "Having people champion this program is really awesome."
For more information First Tee, call (909) 297-6262 or visit their website.