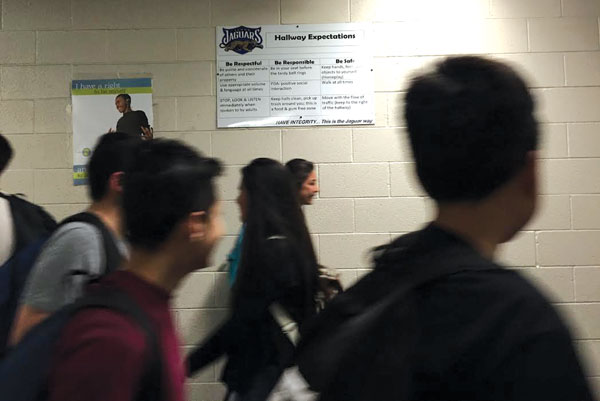 Five schools in the Rialto Unified School District were recognized as bronze level status for their implementation of Positive Behavior Intervention and Supports — PBIS — a school-wide approach to behavior management, the district announced. Top honors were awarded to Rialto and Carter high schools, Jehue and Kucera middle schools, and Kelley Elementary School from the California Positive Behaviors Interventions and Supports (PBIS) Coalition.
PBIS focuses on creating and sustaining school-wide, classroom, and individual systems of support for positive behavior.

"Positive Behavior Interventions and Supports is an evidence-based proactive approach to establishing the behavioral supports and social culture that is needed for all students in a school to achieve social, emotional and academic success. The behaviorally-based systems approach enhances the capacity of schools, families, and communities to design effective environments that improve the link between research-validated practices and the environments in which teaching and learning occurs," according to pbis.org.
Among the keys to a successful school-wide behavior management plan is for everyone, including students and parents, to be on board, explained Melissa Rubio, RUSD's PBIS coordinator.
Jehue's school-wide expectation matrix is to "Be positive, Be respectful, Be Safe." Student behavior is measured on these practices and the campus has a system in place to deal with consequences for behavior.
"There's a school-wide expectation and everyone is held accountable," Rubio said. "The goal is to increase student engagement so that all students know what their schoolwide behavior is, and what positive behavior incentives are in place. "When frameworks are implemented, the whole culture and climate of the school changes."
It's Carter, Jehue, Kucera and Kelly's third year implementing PBIS, with Rialto High in it's second year, Rubio said.
"The frameworks at the schools have been staff driven and supported by administration and parent participation," she said. "They've all embraced it."
As of this year, all Rialto unified schools are implementing PBIS in some capacity, Rubio added. Colton is the only other district in the area to have 100 percent of schools adopting PBIS.
Each RUSD school's name will be displayed on the California PBIS Coalition webpage. The schools were recognized during the Aug. 24 Board Meeting. Staff will also be recognized at the Annual California PBIS Coalition Conference in Sacramento Sept. 22.