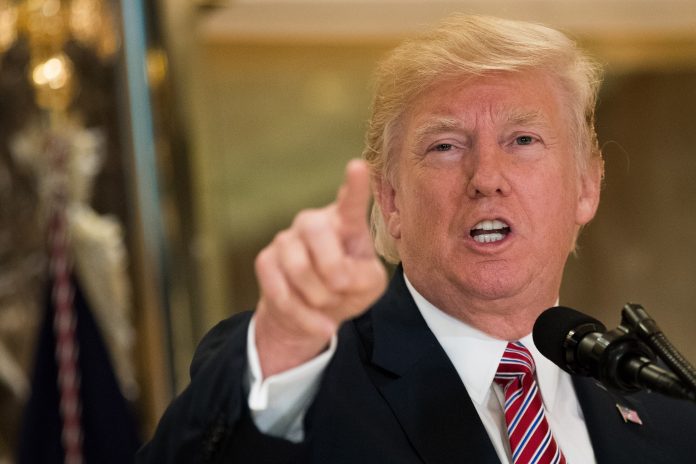 As President Donald Trump continues to use his platform to incite division, more people are beginning to speak in support of civil protest.
Recently, several pro athletes have given public statements and held demonstrations to renounce inequality and call to question our nation's leadership. In his address to several supporters in Alabama last week, and as reported on multiple news outlets, Trump said NFL players should be suspended or fired for refusing to stand up for the national anthem.

"Wouldn't you love to see one of these NFL owners, when somebody disrespects our flag, to say, 'Get that son-of-a-bitch off the field right now, out, he's fired. He's fired,'" Trump exclaimed–yet again on Twitter–about those who kneel while the U.S. national anthem is playing.
In embracing the "us versus them" rhetoric that involves cutthroat politics, patriotism, and populism, Trump is attracting a fan base that openly and aggressively advocates for white supremacy. The president suggests white nationalists are "very fine people," whereas referring to former San Francisco 49ers quarterback and activist Colin Kaepernick and presumably others as a "son-of-a-bitch."
These degrading references deliberately cause separation and segregation in communities. Many are bitterly embroiled in a discussion surrounding what it means to be an American–a civil strife that some say has not been seen since the 1960s. Some view the "kneeling" as a brave act to call attention to police brutality and racism, while others view it as a desecration of our nation's values.
As a result, citizens have vociferously attacked anyone that decides to speak out against popular political figures and pressing social issues. Unfortunately, ethnic minorities and immigrants have been left to ponder whether they could envision a future in the U.S. rife with growing bigotry and xenophobia. In that context, it makes sense why our nation's marginalized communities hardly feel a connection to the patriotic symbolism of the "Star Spangled Banner" or the red, white, and blue colors of the flag.
Nonetheless, the influx of support NFL owners have given to their players for speaking out is a step in the right direction. While it may be a calculated decision based on mere convenience, it indicates an admission that a severe American divide is taking place.
More importantly, average citizens–even those not accustomed to speaking on matters of politics or civil rights issues–are expressing their concerns of infringement of rights and disrespect of national values.
John Middlemas, a 97-year-old World War II veteran, became an internet sensation earlier this week for a photo that shows him "taking a knee" in solidarity with professional athletes.
The 21-year Navy veteran purportedly embodies everything President Donald Trump defends–loyalty and patriotism. Why is it then that Middlemas chose to support athletes' right to dissent?
"The president was using the flag and the past veterans to hide behind while he was attacking the ideas and values that they represent," Brennan Gilmore said about his grandfather's actions and frustration with Trump's statements.
"Those kids have every right to protest," Middlemas would also say.
For individuals like Middlemas, protesting the national anthem doesn't represent the disruption of a peaceful society or an attempt to discredit American values. Speaking out for what you believe is what makes the United States stand out from other world nations.
POTUS should bring clarity and resolution to a nation divided. Adding fuel to the fire exacerbates an already tumultuous national feeling. All, not some, Americans are entitled to the protections of free speech. People expect a strong, decisive leader. Not someone who repeatedly caters to uncultured and downright vulgar utterings of social media.
---
Join our newsletter for weekly wrap-ups of our community coverage, exclusive advertising opportunities and local business specials!