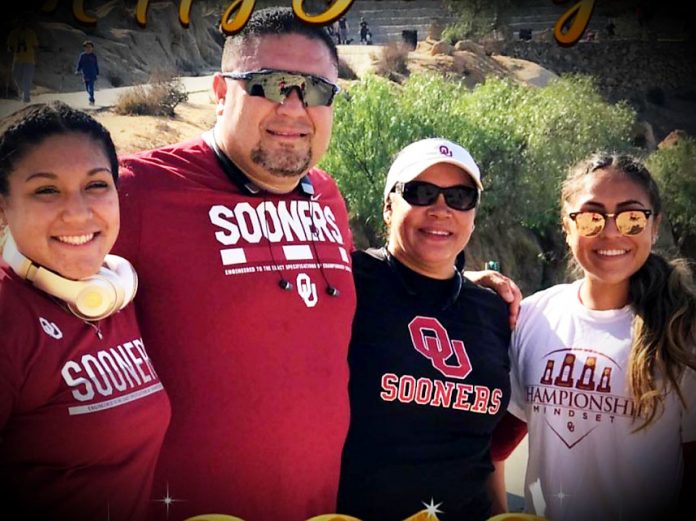 For both Alysia and Eliyah Flores hard work is second nature when it comes to playing softball. It has to start somewhere, though, their father Jimmy Flores, a respected and well known hitting coach has been with them every step of the way. With 10 years of coaching and experience in Travel Ball and Premiere Ball, Jimmy gave his daughters the platform only few could obtain.
Alysia, who is finishing her final year at Grand Terrace High School, was recently awarded the distinguished Ken Hubbs Award on Monday, May 20. The award recognizes the top athletes from 25 schools in the greater San Bernardino area.

"Shocked and happy at the same time," Alysia said about how she felt when informed that she would be receiving the award; she was nominated by GTHS Athletic Director Tiffany Gordon. Alysia excels in academics as the reward honors those with a GPA of 3.5 or higher. Alysia has also contributed to community service through the special needs program "Best Buddies."
"My heart's in the game, and always progressing," Alysia expressed about her passion for softball. "Always trying to be a leader to the girls in school."
Eliyah, a sophomore and standout student at the University of Oklahoma, is currently top seed in the softball championships.
"It's about holding each other accountable and trusting the process," Eliya said regarding her expecations of the team. "The game's a lot faster and a lot smarter." Eliyah continues to grow as an athlete and individual, with the support she receives from her family.
Alysia will be joining Eliyah at the University of Oklahoma in the fall. Both girls will be participating in the Mexican National team this summer. With Eliyah and Alysia, there has been no doubt the talent they bring onto the field and Jimmy and Darlene have both enjoyed the journey their daughters continue to travel. "It had to be the right thing and the right time. The right tournaments in front of the right people," Jimmy explained.