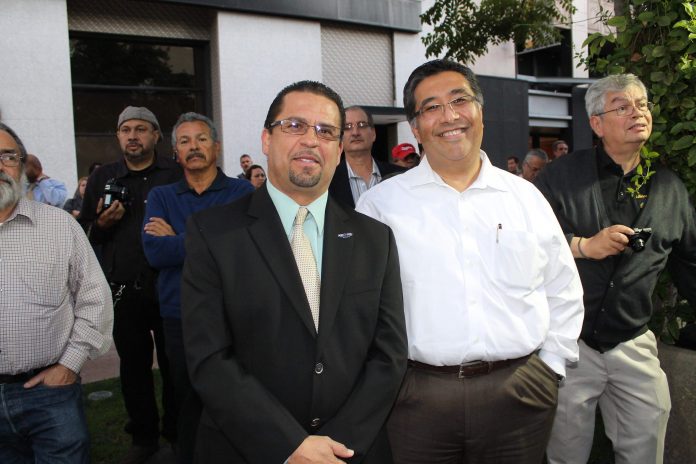 Frank Montes, chairman of the California Hispanic Chambers of Commerce, has filed a public entity claim against the City of San Bernardino due to "intimidation" and "bullying" that allegedly took place during a Council meeting last month.
The claim contends that Montes, a resident and businessman from Fontana, was threatened by former City Attorney Jim Penman following an incident inside the makeshift dais at the Economic Development Agency building in downtown. Montes is also accusing the San Bernardino Police Department of intimidation and bullying for an alleged false arrest in a public bathroom.

Specifically, the claim against the city indicates that the Mayor and Council "expressly and impliedly" sanctioned Penman's alleged threats based on comments made by City Manager Andrea Miller and due to Mayor Carey Davis' failure to reprimand Penman and take control of the meeting.
"The City used its police force to bully, ratify racist threats by the recalled City Attorney and intimidate a public speaker who had the right to comment." said Timothy Prince, Montes' attorney.
The Police Department denies any wrongdoing took place, while the City Manager's office could not be reached for comment.
Montes was among several speakers who spoke during the February 21 Council meeting on the cannabis issue. He criticized San Bernardino's leadership for not understanding the needs of small cannabis businesses, instead opting to support larger corporations that do not understand the community.
According to Prince, Penman began heckling him from the audience and hurled racist comments. Penman allegedly told Montes, "Where you from, ese" and "You bring out the vato loco in me."
Minutes later, Montes, admonished along with Penman by current City Attorney Gary Saenz, was reportedly followed by four San Bernardino Police officers into the restroom and locked inside with Penman. Montes was then allegedly forced to shake hands with Penman, after being told he "knows who Penman is."
San Bernardino Police Lieutenant Mike Madden said there were only two officers, not four in the restroom inside the EDA building. And the door was not locked, but blocked from inside, he explained.
According to Madden, Montes' claim that his shoulder was grabbed by a police captain after speaking during public comment is also a false accusation.
"We definitely did not do that," said Madden. "We were keeping the peace between two impassioned people."
Madden confirmed he has been tasked with facilitating a meeting between Montes, Miller and Police Chief Jarrod Burguan, but has not been approached by Montes.
Meanwhile, Penman admitted to saying, "Where you from, vato" and also said he told Montes "no te agüites", which translates to "don't get upset" or "don't worry" in English. However, Penman denied using those words in a racist context.
The first comment, Penman explained, was a challenge to Montes for trying to claim that he's representing San Bernardino interests.
"I know he's not from here," said Penman. "I know the Latino community and I know Latino leaders. He was challenging the Mayor and the Council like if he was on the street."
Penman admitted he could have approached the situation better, but was only reacting to "calle (street)" talk.
"I do not apologize for what I said, but I do apologize if what I said hurt him," Penman expressed.
In addition, Penman denies making any intimidating comments to Montes. He's claiming it was Montes that followed him into the restroom and raised his voice.
"This is a conversation that should have stayed between two vatos in the bathroom," said Penman. "If he felt that way, why did he shake my hand? It looks like he's looking for ink."