San Bernardino County Museum has opened a new exhibit on November 1st titled "Footsteps to You: Chattel Slavery." The exhibit is a detailed exploration of the practices on the history of slavery and racism while also highlighting heroes of that time such as Harriet Tubman. The exhibit was featured in the gallery at the entrance of the museum.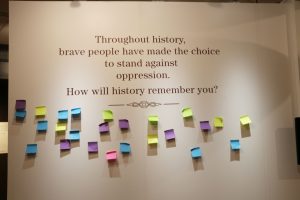 The open space allowed museum-goers to wander from piece to piece; the room was filled with a pulsating silence. Each person young and old looked intently at the history pieces before them, this included signs promoting Jim Crow Laws and racial slurs, literature written by those who lived through this experience, and replica chains that slaves would have worn while being sold. Seeing the item visibly left a mark on those who entered the exhibit.

But despite the somberness that must be remembered with the horrors of the past there was a piece that stood in the middle that symbolized hope. In the center, on a large white wall decorated with words in black that read, "Throughout history, brave people have made the choice to stand against oppression. How will history remember you?"
The white wall was decorated in colorful post-it notes ranging from all the colors of the rainbow, adults and children alike wrote what they wanted to be remembered for by history. Some wrote that they wanted to be remembered for having a kind heart, standing up for what's right or "becoming the first female president." Even a toddler tried their best to write what they hoped to be remembered for one day.
"I will remember reading those words on the post-it notes and feeling that there is still hope in this world," said a resident of Colton. "Sometimes it's literally written on the walls."
This interactive piece called upon museum-goers to think not only about the transgressions of the past but to look towards hope in the future.