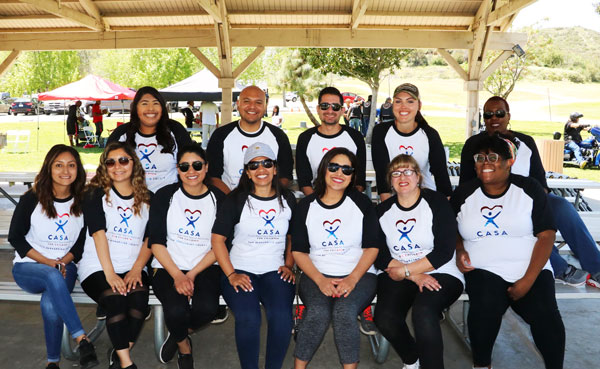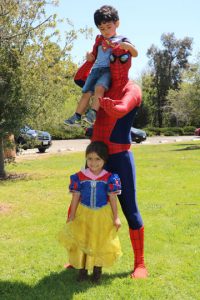 Over 120 people converged at Glen Helen Regional Park for the Heart of a Hero Run in support of a common mission – to improve the quality of life for children in foster care. CASA (Court Appointed Special Advocates) of San Bernardino County held its 11th Annual 5K Run and Community Resource Fair on Saturday, Apr. 21 to highlight the heroes who work tirelessly to keep children safe, and to raise awareness surrounding the need for volunteers.
The concept of training community volunteers to speak on behalf of abused and neglected foster children was conceived by a Seattle judge in 1977, and has since expanded nationwide to a network of more than 76,000 volunteers who serve over 251,000 children through 1,000 local offices.

Former San Bernardino Mayor Patrick J. Morris introduced the CASA program to San Bernardino County in 1984 while he served as a Superior Court Judge and witnessed the need for such advocacy.
Last year there were roughly 5,700 children in foster care in San Bernardino County who were removed from their homes due to abuse and/or neglect. Social workers have heavy caseloads making it challenging to provide individualized care and attention to each child's particular needs and wants.
According to CASA of San Bernardino County Executive Director Cesar Navarette, there are currently 220 high-need, high-risk foster children on their waiting list to be paired with a volunteer.
"We need to do more to spread awareness, and the challenge is getting the right volunteer," Navarette said. "We get a lot of interest phone calls but when it comes to training, it (wanes)."
Training consists of 30 classroom hours, but a hybrid model was recently created for added convenience that comprises a combination of in-class and on-line instruction.
According to Navarette many of the foster children's permanency plans are long-term foster care due to a lack of a consistent adult in their lives. This is where a CASA volunteer steps in to fill that gap.
"Volunteers create that stability that is missing, creating that bond and bringing back hope to foster children," Navarette explained. "Volunteers have a huge impact."
CASAs are appointed by judges to represent the best interests of children in court, education and healthcare.
"A CASA has legal rights to represent their assigned foster child in those systems," said Navarette. "They are able to hold agencies accountable and to make sure their assigned foster child receives all the interventions and services they need."
CASAs become involved in many aspects of their foster child's wellbeing – meeting with social workers, teachers, care givers, and health providers, as well as attend family team meetings.
Volunteers are asked to commit 10 – 15 hours a month with their assigned foster child, and according to Navarette the monthly average is 12 hours.
An in-class training session begins on May 8 in the High Desert, and a hybrid format commences June 9 in Colton.
The 2nd Annual CASA Golf Classic, a fundraising event to support CASA's efforts to recruit a minimum of 100 new volunteers this year, will take place on Monday, May 7 at the Redlands Country Club. Registration for individual $150, foursome $600, sponsorships available.
For more information on the golf fundraising event or becoming a volunteer, please call (909) 881-6760 or visit casaofsb.org.