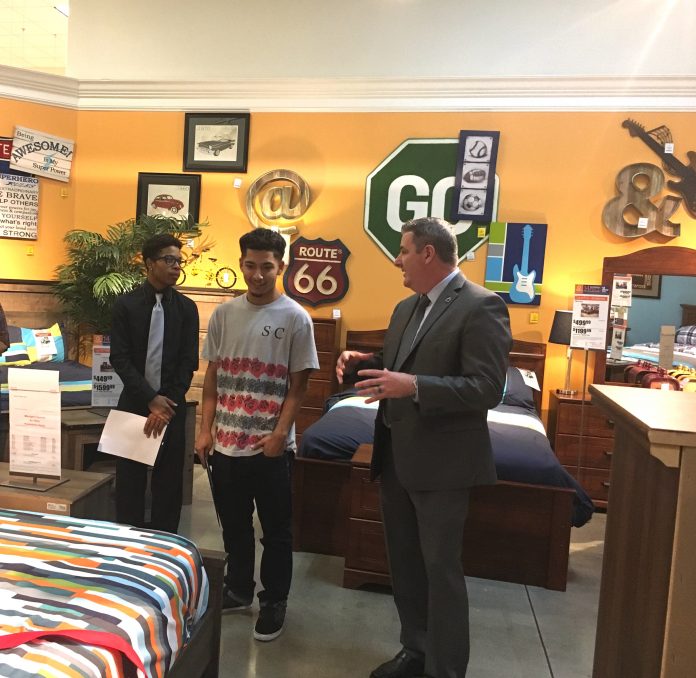 Four former foster youth received a boost in morale Thursday when they received furniture donations from Ashley Furniture for their new apartments.
"It's crazy that there are people here who appreciate me, who love me, and who have been like family" said former foster youth Latonya Jackson, 19, of Riverside. "It's amazing."

The young people are part of Aspiranet's Transitional Housing Placement and Foster Care Program that provides former foster youth ages 18-21 the opportunity to live on their own, while also undergoing a rigorous life skills program to teach them how to find employment, enroll in college, and deal with social situations.
In collaboration with Aspiranet, the company donated bed sets, chests of drawers, sofas, and coffee tables.
According to Ashley Furniture Regional Manager John Santos, the furniture giant and Aspiranet have been partnering to help foster and at risk youth since 2014. This is the first time they hold a furniture giveaway event in the Inland Empire.
Santos believes the partnership with Aspiranet and the Assistance League, which provided the youth with soft goods and other home essentials,
"This was something our company wanted to help with," Santos said. "These kids have [demonstrated] that they want to be successful. We will continue to work with Aspiranet to provide these essentials to great youth."
Hank McKee, Aspiranet's associate division director, believes his organization helps fill a gap for young people who have struggled to find stability.
"These kids have travelled through different schools–falling behind on their education, their life skills, on learning how to cook a meal. When we get them at 18 we start from scratch. We help them develop skills to become self sufficient and find their way."
Jackson, who at one point was both a victim and perpetrator of bullying, said she's excited to work towards becoming a stronger person. She plans to attend college and become an agriculturalist.
"I can use everything they teach me every single day," said Jackson. "I have dealt with many obstacles in my life and I now have the confidence in myself to overcome these and any other barriers that may come my way."