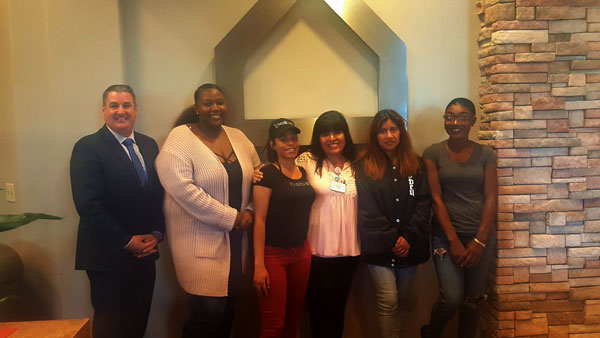 A mother drops her three children off with a friend and never comes back for them. The adult has no choice but to transport the deserted children to a police station in San Bernardino where they were placed into the system. Ultimately they were taken in by their grandmother and raised in Rialto, meeting weekly with a social worker. Jakarra, the youngest, was too young to remember how old she was when her mother abandoned them.
Now 20 years old, Jakarra was one of five foster youth transitioning from foster care to independence to receive furniture (including sofa, love seat, coffee table, end tables, bed and mattress, single drawer dresser), donated by Ashley HomeStore in partnership with Aspiranet on Thursday, May 17.

"This furniture donation goes well beyond what the youth can even imagine for their first home," said Jeannie Imelio, Executive Director for Aspiranet. "It helps to create a warm, safe, and well-equipped space for them to start their adult life."
Jakarra, a 2016 graduate of Carter High School, started living independently in February in an apartment in San Bernardino. She has been employed for the last three years, working up to 16 hours a day to support herself. According to Jakarra her goal is to pay off accumulated college debt so she can resume her pursuit of higher education.
"We felt Jakarra was deserving of the furniture because she received no (financial) support from her family and did it all on her own," said Jennifer Chapa, Aspiranet community advocate. "She is very good about managing her money and even saved enough money to buy her own car."
Jakarra entered Aspiranet's Extended Care services program when she turned 18 and matched with a life coach, who has and will continue to provide guidance, mentorship and emotional support until she ages out of the program in September when she turns 21. Jakarra has elected to enroll in the mentorship program at that point to continue to receive mentorship and services through Aspiranet.
"Being with Aspiranet is the best thing that happened to me," Jakarra said in a telephone interview. "(Life coach) talks to you and guides you, they're their to just listen with open ears and not down-talk you."
Ashley HomeStore, the world's largest furniture manufacturer and retailer, is continuing its partnership (started in May 2015) with Aspiranet by donating five furniture sets to the former foster youth.