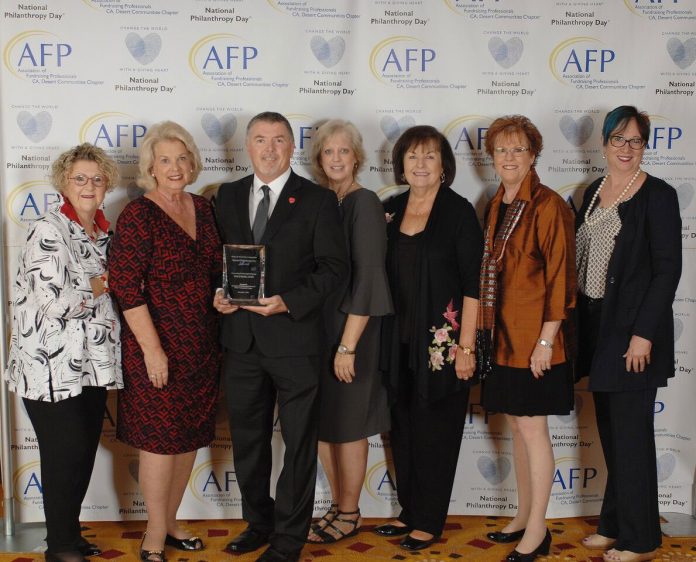 The Desert Communities Chapter of The Association of Fundraising Professionals (AFP) 12th Annual National Philanthropic Day Lunch recognized Inland Empire non-profit leader Tim Evans, M.Div., CFRE in early November in Rancho Mirage before nearly 600 guests. The founding Chaplain of Loma Linda University Children's Hospital in 1990, and founder of The Desert Communities Chapter of Association of Fundraising Professionals a dozen years ago, Evans was selected by 100+ member colleagues for the 2018/19 Outstanding Nonprofit Executive of the Year Award.
He was selected for the same award from fellow charity leaders in the Inland Empire Chapter of AFP at the National Philanthropy Day Luncheon at the Mission Inn in November 2015, It is rare to get such an award twice in a career. The 1st president of the Coachella Valley group, Evans is a former Vice President of the Inland Empire AFP group. This year he was nominated by Community Foundation Vice President Paula Kennedy.

"I'm so humbled and honored to receive such a recognition buy the women and men in the non-governmental organization sector of Inland SoCal. Without the blessings of God and the benefit of our volunteers and donors, this would never have happened. A career is so dependent upon the professional company you keep and team you build! Helping hundreds of grieving families who've lost a child has been rewarding and made me happy," reflects Evans.
The Association of Fundraising Professionals is the world's leading organza ion for training administrative and developmental staffers of 501 (c) (3) groups with above 33,000 members, around the globe. Evans achieved the industry standard credential called the CFRE – Certified Fundraising Executive status in 2005, one of 5500 across North America and the world. Other awards were given at the ceremony like Nonprofit Volunteer of the Year, Philanthropist of the Year, and Philanthropic Business of the Year.
Read more and see pictures at either The Unforgettables Foundation or The Desert Communities Association of Fundraising Processionals Chapter Facebook Pages, or at www.unforgettables.org.
Evans has sat on numerous boards like Olive Crest, the San Bernardino Symphony, the First Tee, Red Cross of Riverside County, and has been a member of Redlands Optimist, a past president of Magnolia Center/Uptown Riverside Kiwanis and a Rotary "Paul Harris Fellow" from Palm Springs to San Bernardino and Loma Linda. Tim is also a graduate of the Annenberg Foundations' Alchemy and Alchemy+ Executive Training in Los Angeles, to go along with his M.Div degree.
"To be selected for the Palm Springs area award is very rare for an Inland Empire-based person, so I'm simply grateful and thankful."