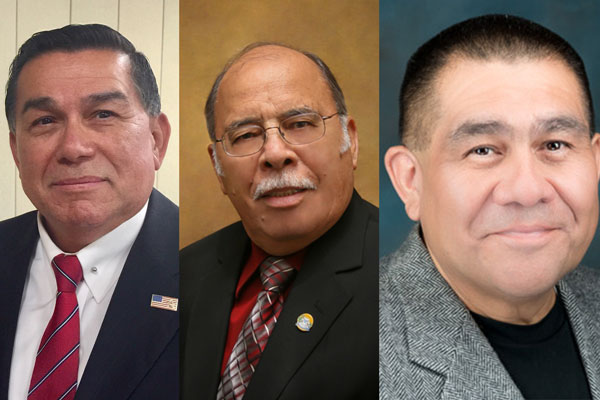 With the primary elections in the rear view we look ahead to the general election where Colton will be voting for its next mayor. Current Mayor Richard DeLaRosa has decided not to seek reelection in order to make way for new visions, and throwing their hats in the race are (presented in alphabetical order) Mark Garcia, Councilman Frank Navarro and Councilman Isaac Suchil.
"I'm leaving the elected office, but I will remain as active and involved as I can as a volunteer, and will continue to be the connection between the city and investors and developers interested in investing in our city."

A new face to city politics is lifelong resident Mark Garcia who serves on the Recreation and Parks Commission. Garcia states he brings with him fresh ideas and vision to the council that include seeking out a more stable tax base for the city to avoid taxing residents, attracting new businesses through incentives, and improving infrastructure such as parks and concession stands.
"The people of Colton deserve better, we need to do away with wasted spending," Garcia declared. "I would like to start an advisory committee of residents who are business owners to come up with suggestions on how to make and save money for the city."
Navarro, who has been active in the community since 1965, aims to bring improvements and amenities to the city that include attracting new businesses, improving sidewalks and lighting, seeking grant funding for park improvements and working with Community Services to bring a sports complex to South Colton off Congress.
"I have a passion for this community and the people who live here," Navarro said. "I will bring in new projects to provide the necessary revenue to the city in order to provide city services to residents," adding he will ensure that Utilities remains solvent and public safety services are delivered at the optimal level based on revenue.
Suchil, a third generation Colton resident, believes his philosophy is more progressive in his vision of moving the city forward. The top of his priority list is attracting new businesses and retaining existing ones. According to Suchil, "There's a lot of red tape for new businesses to start here in Colton, and we need to reevaluate our process" in order to adopt a more streamlined approach.
Additionally, Suchil, who voted against the Utility Tax, is opposed to taxing residents who he believes are already overburdened with taxes.  "It's important to stay solvent, but we need to look at alternate ways of raising money and reassess some city services."
Mayor Richard DeLaRosa issued a dual endorsement of both Navarro and Suchil, citing either one would make a capable mayor.
"There's good ongoing communication among city council and I hope they will continue that and take it to the next level, and continue the city council's direction to get the city's financial future stable through Measure D," DeLaRosa said.
The nomination period is from July 16 through August 10.