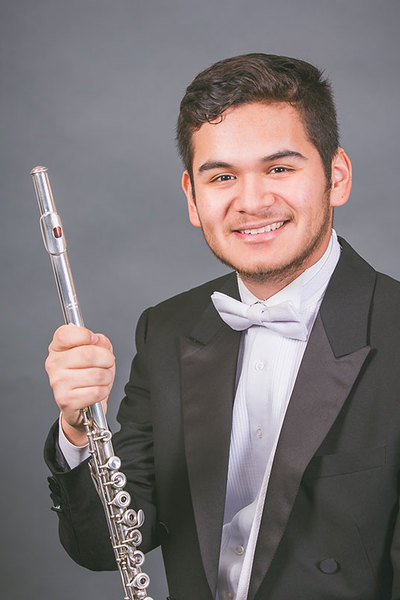 The Redlands Symphony, under the baton of Maestro Ransom Wilson, will present an evening of music composed by Robert SCHUMANN, highlighted by a performance by flute soloist, Gerardo Lopez, winner of this year's Concerto Competition held by the University of Redland's School of Music.  Lopez will perform the Flute Concerto in D major, Op. 283 by Carol REINECKE. The concert begins at 8 PM.  Doors open at 7 PM.  Maestro Wilson will present a pre-concert talk starting at 7:15 PM. Single tickets start at $15 and are on sale online at www.redlandssymphony.com, by calling the box office at (909) 587-5565 and at the door on performance night.
Born in Los Angeles, CA, Lopez, 23, began playing the flute at the age of 10 when he entered junior high school. He continued his music studies in high school, including private lessons with Dr. Wendy Rolfe and Lance Van Lenten at the Berklee College of Music.

"I was about eight or nine when I discovered classical music," Lopez recalls, "I was listening to a collection of the ten greatest piano pieces on a CD and that was it. I loved the music and knew then, that I wanted to pursue a career in the performing arts."
Lopez attended Pasadena City College (PCC), earning an A.A. in Music with summa cum laude honors. While there, he studied with Jamie Pedrini and was active in the orchestra and chamber ensemble programs. At the end of his time at PCC, he was awarded the Music Department's highest honor: "Honors Extraordinaire."
Lopez transferred to the University of Redlands in 2015 and graduated in 2017 summa cum laude, with a B.M. degree in Music Performance. At the University of Redlands Lopez studied with Artist Teacher of Flute, Sara Andon. He is now a graduate student at the University, continuing his flute studies with Ms. Andon. He is a member, of the University's Wind Ensemble and Orchestra, as well as a member and conductor of the school's Flute Choir. Gerry has qualified to perform as a student member of the Redlands Symphony, under the direction of Maestro Ransom Wilson. This is his third season of playing on select RSO concerts.
Lopez has performed with a variety of ensembles including the Pasadena City Honor Band in the 123rd and 124th editions of the Rose Parade.  He has also performed with 29 Live Band with such musical guest soloists as Diana Ross and Macy Gray. 
Recently, Lopez has been exploring contemporary music including performing an all-world premiere of new works as part of the Sound and Fury concert series, directed by Christian Dubeau and Christine Lee at the Art Share L.A. in Los Angeles. He is also one of the founding members of PHAZE Ensemble, a Redlands-based group focused on bringing contemporary music to the Redlands community in an accessible and engaging way. The inaugural concert last July featured a work collaboratively composed by the members of PHAZE, titled "Caged Bird Song," which was inspired by Maya Angelou's poem "Caged Bird."
"My goal is to teach and do research at a university or college as a music theory professor," explains Lopez, "I have interests in music cognition research which is a special niche under the broader umbrella of music theory."
In his spare time – what there is of it – Lopez likes watching YouTube videos, reading poetry, star gazing on clear nights, and following the news: "I'm a bit of a news junkie," he says.  Lopez is proud that he's made it this far in his academic career without having a cup of coffee and plans to keep it that way at least until he finishes his PhD.
Redlands Symphony offers its Symphony Select card for $159 throughout the season. A Symphony Select card provides six tickets in the best seats available (excluding Golden Circle) at any concert on any date. Card holders can use two (2) tickets per concert, all tickets at once, or in any other combination.
Single tickets range in price from $15-$70. There is a special discount for students and University of Redlands students are always free. There are special discounts also available for groups of 10 or more. More information is available by calling the Symphony box office at (909) 587-5565.
To purchase tickets and find complete season information go to www.redlandssymphony.com or call the box office at (909) 587-5565. The Symphony office is located at 210 E. Citrus Avenue, in Redlands, California.