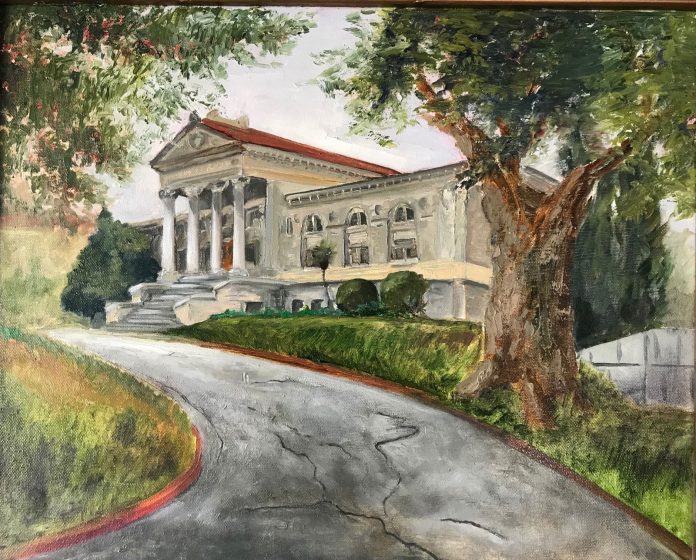 Luz Perez of Grand Terrace was born destined to be an artist. Named "Luz" which means "to give light" Perez documents her love for California landscapes with a distinct focus on how light affects scenery in her plein air work. Perez will be one of five artists featured during the 10th annual "Evening with the Artists" hosted by the Redlands Community Hospital Foundation's Art Committee. The event will take place on Friday, November 2, 5:30 to 7:30 p.m. at the Stan and Ellen Weisser Education Pavilion, located at 350 Terracina Blvd. in Redlands.
From a young age, Perez discovered that she had a natural ability to draw and paint. As a child she understood color and developed a passion for oil paint. Born in Mexico, Perez came to the United States as a young girl. A reminder of her heritage is present in colorful works that reflect cultural scenes from Mexico.

"I let the beauty of God's light on everything guide me in my painting," says Perez. "Nature is fascinating and an incredible influence in my work."
Perez is a founding member and the president of Plein Air Artists of Riverside (PAAR). PAAR's mission is to promote plein air painting while advancing the legacy of the California plein air painting movement.
Perez will join artists Marilyn Froggatt, JoAnne Windsand, Roberta Thole and Terry d. Chacon for "Evening with the Artists." Perez's artwork will be available for purchase during the event. A portion of the proceeds will benefit the Redlands Community Hospital Foundation's Art Fund.
"Art has a powerful way to captivate the emotions and remind of us of personal connections," Jan Opdyke, president of the Redlands Community Hospital Foundation. "We work with local artists that share creations that often bring familiarity and comfort to our patients and visitors."
In 1938 hospital volunteer Marianne Finlay had admired the modest collection of art that was displayed in the hospital. Soon after she started, the hospital expanded and Finlay's parents made a donation to decorate the new rooms. It was then that Finlay made it her personal mission to create a warm and uplifting environment for patients using art.
Kenneth Ghormley, M.D. had also long envisioned an art program for the hospital, so when another expansion took place in 1978, he and Finlay joined forces to establish an official art program. For decades, Finlay worked tirelessly to secure original art for the hospital. She retired in the 1990s and has since passed away, but her vision and legacy still lives on through the work of the Redlands Community Hospital Foundation and its Art Committee.
Today, the hospital is home to more than 1,000 original works of art and exhibits more than 800 pieces in addition to historic photographs throughout the hospital.
To see more of Perez's artwork, visit www.luzperezfineart.weebly.com
Tickets for Evening with the Artist are $25.  For more information or to RSVP, please call 909-335-5540 or visit: www.redlandshospital.org/foundation.