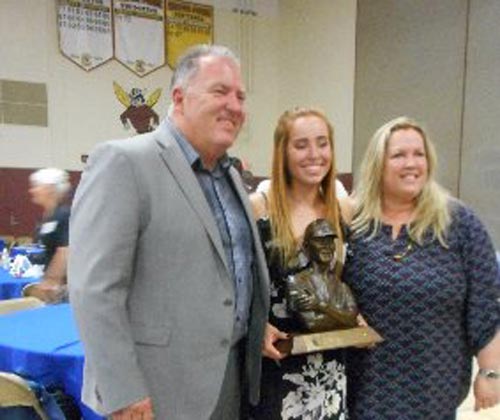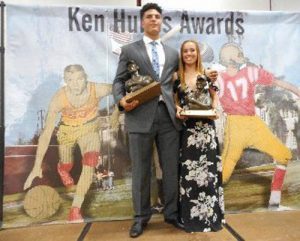 Jaelan Phillips and Claire Graves were chosen 2017 Ken Hubbs Award winners on Monday from a pool of athletes from 25 high schools in the greater San Bernardino region. It was the 53rd edition of the Ken Hubbs Awards.
Hubbs, a 1959 Colton High School graduate was a National League baseball all-star who perished in a plane crash Feb. 13, 1964. The 2017 class of 50 honorees along with their supporters created the largest turnout in the history of the event, easily surpassing the 400 capacity of the Colton High School Ken Hubbs Gym.

Just because Phillips from Redlands East Valley and Graves of Citrus Valley earned All-American status, it still didn't make the selection process easy for the Ken Hubbs Foundation's Board of Directors. Foundation President Ron Doty introduced some of the competition who were highly decorated as state qualifiers, County MVP's, All-CIF picks and Southern Section record-setters.
Doty had to catch his second breathe in listing the accomplishments of Graves, a two-time USA Junior Team 5k cross country runner who finished first at international meets in Venezuela and Bulgaria. In the 9th grade, Graves was an All-American Runner on the National West Region Team. She has reached all-time county top-10 times in distance runs in track as well, including setting a new Citrus Belt League record in the 3200 Meters. She will run next year at Boise State and major in criminal justice.
Graves told the audience that she started running at age 9 when she could out run other kids to get donuts. Along with competing in 47 states, she recalled running the 5k uphill in a cold mountainous region of Bulgaria opposed to the very hot climate she ran in Venezuela. Graves was joined on the podium by last year's Hubbs overall winner Alex Mattison who is currently playing football on scholarship at Boise State. Both called the college their dream school. Graves acknowledged the tradition of Hubbs and said she hoped to continue to make people proud just like the man depicted on the bronze trophy she held.
Phillips was presented his award from Keith Hubbs, Ken's brother. It came after the annual showing of the 25-minute film about Hubbs entitled, "A Glimpse of Greatness." Like his late brother and Phillips, Keith Hubbs was a high school All-American football player. Despite viewing "A Glimpse of Greatness" maybe over 100 times, Keith Hubbs acknowledged that "it still gets to me when I see it." He merged the story of his great brother into similar qualities displayed by Phillips.
Phillips' list of athletic achievements are matched by his outside special achievements. As a national defensive high school player of the year and U.S. Army Prep All-American, he helped Redlands East Valley to a state football championship and four Citrus Belt League football titles. The versatile Phillips can also sing in his church choir and pull a 4.36 GPA. He graduated from REV at the semester and is already enrolled on scholarship at UCLA where he is projected to have an immediate impact. At 6'5″ and 235 pounds, he has sprinter speed, in fact ran a leg on REV's 100 Meter relay team.
REV athletic director Rhonda Fouch described Phillips as a mild mannered teen who does not let national recognition get to his head. "He's accepted on campus as a leader and is exceptional in the classroom," said Fouch. "No. Other students do not get jealous of him because he never thinks he's all that."
True to description, Phillips took the podium and gave the traditional "thank you's" and simply said he'll take the Hubbs tradition onto UCLA where he "hopes to be half the man Ken Hubbs was."