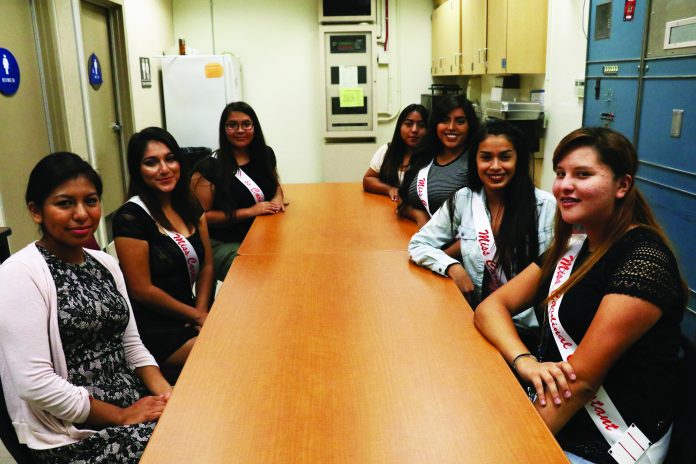 Behind the face of each San Bernardino High School Miss Cardinal Pageant contestant is a story ingrained with adversity and resilience.
Yatziri Toledo, 17, spoke about her struggles of being an undocumented student. She aspires to travel and learn many things, but she understands the potential discrimination that may arise by doing so.

"I believe there are many opportunities outside of San Bernardino," she said. "Getting a free education here is amazing. In Mexico, instead of going to school, I would be working the way my mom and dad did. There are so many stereotypes that exist for us."
Another participant, 17-year-old Maricela Torres expressed her willingness to help others who have been traumatized by physical and sexual abuse.
"I grew up around domestic violence shelters. I want my children and I to help these women," she said. "I want them to help other people who are need. I want positive change among our communities."
The 12th annual pageant–taking place at the Sturges Center for the Fine Arts on Saturday September 24–will feature Toledo, Torres, and a dozen other young women participate in a competition that includes formal wear, interview and sportswear competitions, as well as off-stage rankings for grades and attendance.
The event has provided instruction on how to approach college and career interviews, presentation skills, and formal etiquette. As a result, whether they are crowned Miss Cardinal or not, many of these bright students will leave with another accomplishment in hand, the pageant's coordinator Jamie Rios explained.
"These students have overcome so much," Rios said. "There are a lot of issues that affect these young women daily. Yet, they have the dedication and passion to do something different and make something of themselves."
Melinda Gutierrez-Popa said her experience helping at community events with the other participants has helped her become a better communicator and has boosted her confidence.
"This program has been a lot of fun" she said. "Getting to know all these girls has been been great. They're all amazing."
Many of the young participants praised Rios for his humility and dedication in mentoring them. "He's a very busy man," said Julissa Ruiz. "But he still wants to help everyone. When he makes time for us, it makes me appreciate him much more. He's given us a lot more confidence in what we're doing."
The Sturges Center for the Arts is located at 780 N. 'E' Street in San Bernardino. Tickets are $7 in advance and $10 at the door. For more information, contact Jamie Rios at (909) 881-8217.