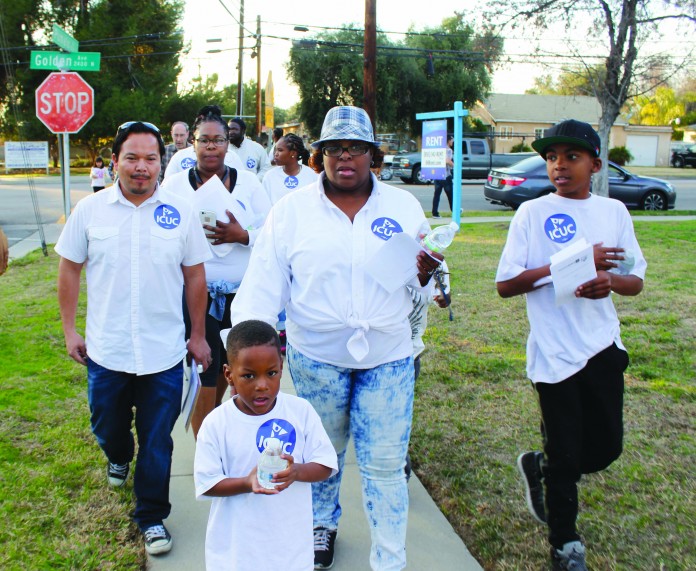 For over two years, community organizations have met with San Bernardino City Unified School District officials to present policy recommendations for Section 48900-K of the California Educational Code that allows school administrators to suspend students for defiance.
Although there have been statements made by district officials to ensure the public they are making inbounds in regards to student suspension rates, leaders of the Inland Congregations United for Change (ICUC), Congregations Organized for Prophetic Engagement (COPE), and the Youth Action Project (YAP) believe there is much more to be accomplished.
"For us it's been a frustrating experience," said ICUC Executive Director Tom Dolan. "But we've made some advances."
Last October the three groups recommended that the board adopt alternative discipline practices that stray away from 'Zero-Tolerance' policies that they argue have destructive consequences. They asked the board to promote positive behavior and restorative justice, improve current policy on willful defiance that aligns to state policy, and better define the role of police on campus and their use of citations in specific situations.
Research done by the Center on Juvenile and Criminal Justice demonstrates that San Bernardino is one of two major cities in the state that gives their school district police department the authority to arrest students. (The other is Los Angeles). Since the school district adopted their arrest policy in 1997, approximately 59,000 students have been arrested. According to the same report, of the 9,618 suspensions given during the 2013-14 school year, 30.7-percent were classified under Willful Defiance. The policy allows for school administrators to suspend students who disrupt school activities or otherwise willfully defy their authority.
Statistics from the state's Criminal Justice Statistics Center (CJSC) shows that 1,078  students were given citations or arrested for misdemeanor and felony offenses in the 2013-14 school year. The top offense reported was disturbing the peace (fights), with 382 taking place. Other top offenses were cannabis possession, loitering, weapon possession, and violent behavior.  
Police Chief Joseph Paulino recommended in Nov. 2015 to cease providing citations for school fights with no injuries, first time cannabis possession, and loitering.
The community coalition has requested more information on policing on campus, such as the inventory on weapons that school police are using on campus. Dolan said he is learning that the district police are highly militarized.
"If school police are being trained in counterinsurgency methods and posses automatic weapons, we want to know that," he said. "It may be an indication that our district's police is highly militarized. School police should be on campus to help kids be? safe, not put them on pathway to criminalization.
Recent incidents have put into question the tactics used by police officers at school sites and whether their conduct is justified. In Nov. 2012, Josue Muniz was arrested for hugging his girlfriend during lunch time at Arroyo Valley High School–an act that is prohibited at all district school sites. The Center for Public Integrity reported that Muniz alleged that an officer grabbed his throat. Alarmed by the stronghold he was placed under, the then 17-year-old student pushed at the officer, which led to a scuffle, and an arrest.
"He told me that I had '[expletive] up,' " Muniz said. "But I never wanted to fight."
Board member Abigail Medina explained that the district has significantly reduced specific areas of the policy and is taking measurable steps to implement positive behavior programs.
"We're still continuing the work, along with our community partners," Medina said. "We have hired civil rights attorneys to help us look at other alternatives. I just do not want to see a 13- or 15-year-old [student] have an arrest record that will impact [his or her] future."
Dolan said the coalition has been meeting with SBCUSD board members and administrators since early 2014 to make policy recommendations on willful defiance suspensions. Yet despite calling a moratorium on the issue, Dolan explained the district has opted to instead end willful defiance expulsions.
"The district continues to come back with proposals that we think are inadequate and to some extent disingenuous, said Dolan. "If they carry through with their proposal, there is still the possibility of thousands of students being suspended through willful defiance."