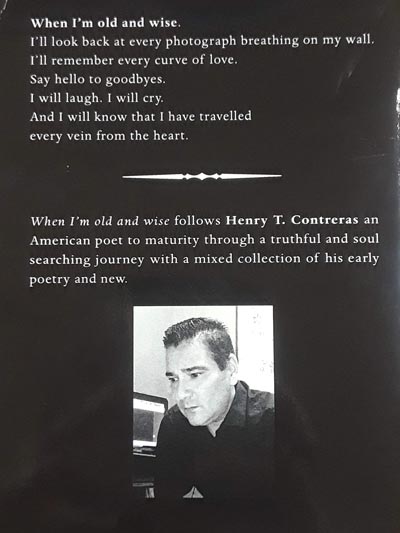 Henry T. Contreras sits in a small local diner in Colton as his fingers gently flip the pages of his book, When I'm Old and Wise,a collection of poems published in June. He makes the room pulsate with positive energy as he passionately describes his love for his hometown and its people within his book.
Contreras grew up in the city of Colton. Due to the tragic loss of his parents at a young age, soon to be adopted by his loving aunt, he learned to express his feelings through creative writing.

"Being an artist is learning to live with a certain kind of scar, but no matter what continuing to move forward," said Contreras, when describing how he overcame adversity.
His creativity flourished as he joined a local group known as the Swinging Singing Guys and Gals of Colton who traveled most of California performing.
His poetry took form in ballads for his friends' garage bands. Continuing his creative drive in college he studied theater but decided to take a detour down the path of marketing.
Building a career in marketing, Contreras was a major success working with big names such as George Lopez and Gene Simmons assisting them in establishing their restaurants.
Tirelessly working to make other people's dreams become reality be it restaurants, hotels or resorts, nevertheless, he felt he wasn't being true to himself and something was missing from his life.
He never stopped writing and, eventually, found Twitter.
He created a Twitter account and posted a poem called "I Shine" (a poem featured in his book). He credits this poem for starting him on the path of creating When I'm Old and Wiseand following his passion for writing.
"One thing I learned, when I was writing early on, I was writing for everyone, and I wasn't being honest," he said. "Not 'til I started writing from the heart and about who I was. That's when I started getting a following."
When I'm Old and Wiseis filling bookshelves in universities and colleges throughout the United States of America along with being internationally sold to countries such as Canada, the UK, and Germany. But through it all, Contreras remains humble and community-based.
"I want to inspire young people and help them to believe they have a voice that has the power to change their community and their country," said Contreras.
Many of his poems such as "Passerby" and "Alphabet Street" are directly related to his experiences growing up in Colton.
Finding inspiration in the world around him, Contreras firmly believes in experiencing life, he travels the U.S to find inspiration, clearly seen in his vivid imagery throughout the book.
Contreras is deeply involved with advocating for young people to use their voice and follow their dreams but remembering everything takes time.
"My entire career has been baby steps, everything I did from TV shows, and cable stuff never really took off for me," he said. "But it took everything I learned from there to come together and put me where I am now."
Contreras, with the successful release of this book, plans to release a new collection of poems, the Second Coming, hopefully to be released in December. He is also working on his Supernatural Trilogy due to come out in January.
By Shelby Horton