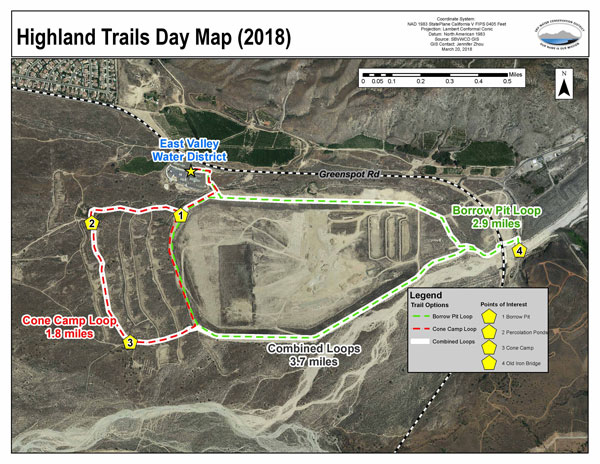 "Take a hike.  Hit the trails and see Highland."  That is our theme once again for the 24th Annual Community Trails Day.  This event will be held on April 7th from 8:00-11:00 a.m. beginning at the East Valley Water District Headquarters on Greenspot Road.  The purpose of these annual events is to promote Highland's community trails system and to engage everyone in a healthy and beneficial outdoor activity.  While this year's trail is not part of our City's Community Trails system, the community has been afforded an opportunity to explore an area within our city's limits not generally open to the public by San Bernardino Valley Water Conservation District.
This year's selected hiking and biking trail routes will start from the East Valley Water District's parking lot and go out through the Conservations Districts peculation ponds to the old Cone Camp where you will learn some of the history of this area on a leisurely 1.8 mile walk.

In addition, you can choose to travel the Borrow Pit loop and visit the Old Iron Bridge and view our new trail rest area and interpretive signs about the area.  This Borrow Pit loop is approximately 2.9 miles long and with easy elevation gains.  The combining both loops, Cone Camp and the Old Iron Bridge, is approximately 3.7 miles and has easy to moderate elevation gains.
If you are interested in attending, meet us at 8:00 a.m. at East Valley Water District at 31111 Greenspot Road.  Regional businesses have donated a few gifts that will be awarded to those that participate.  If you would like more information please visit the Events page on the City's website trails@cityofhighland.org or e-mail to  trails@cityofhighland.org or contact the City at 909-864-6861.