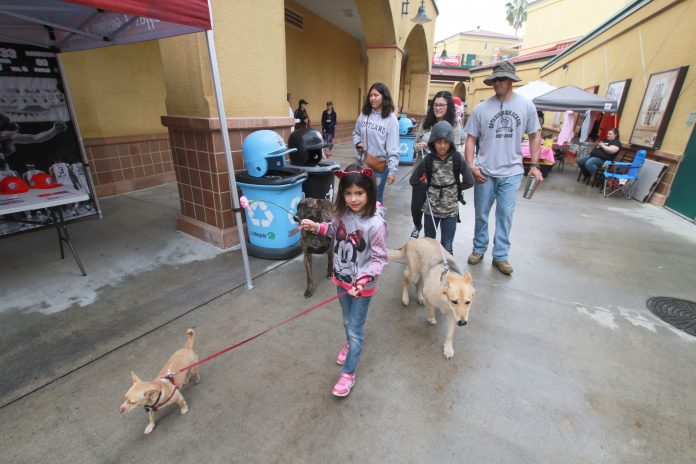 On Saturday, May 11th the Humane Society of San Bernardino Valley (HSSBV) held its annual "A Walk for the Animals" fundraising event at the San Manuel Stadium, hosted by the San Manuel Band of Mission Indians, that raised over $14,000 for the nonprofit.

It was cloudy and some sprinkles of rain did fall, but the vendors, participants and several spectators did come out to enjoy the occasion. Attendance for the event was free and participants enjoyed several activities that included a play area, a pet photo booth, raffle prizes, vendors, music, and several giveaways. San Manuel Band of Mission Indians Public Safety Department performed a demonstration with their K9 Unit.

Dogs of various breeds and sizes, and at least one very big cat, made their way around the dirt track surrounding the baseball field. Most of the participants completed several laps, and many towards the end carried their pets in their arms to complete the course.

Jeff Pope and Kelly J. hosts of the Jeff Pope Show on HOT 103.0 were the Master of Ceremonies during the walk and judged the Pet Contest. Tony Shin, NBC Inland Empire Bureau Chief and Reporter emceed the Pet Contest. The "SoCal Helpful Honda Guys" made an appearance assisting participants during the walk and helped distribute contest awards and trophies.

Tony Shin awarded the HSSBV Pet Hero Award to the San Bernardino Police Department's K9 Unit represented by Officer Flint and her K9 partner Bexter, and Officer Keil and his K9 partner Rico. Each were given a ribbon and a Pet Hero Award Certificate. Bexter is a Belgian Tervuren who has been trained as a Patrol K9 and a Narcotics Dog. Rico is also a Belgian Tervuren who is trained as a Patrol K9, Narcotics Dog, and SWAT trained.

The Pet Contest had several categories in which pets could be entered. Best Kisser award went to Tina Isenburg's pooch Ralph; Best Dressed Female award to Gloria Frias's dog Meg from San Bernardino; Best Trick award went to Jason Hernandez's dog Daisy from Chino; and the Laziest award went to Terri Dieringer's cat Jimmy from Redlands. Terri said that Jimmy the cat weighs over 25 pounds! Best Catch award went to Junior and Julianna Iturbide's dog Bonnie from San Bernardino. Best Dressed Male award went to Ryan Villmer's and Nikki Purmal's Weimaraner named "Dorian Gray" from Rancho Cucamonga. Ryan and Nikki said that they were able to raise over $ 1,000 for the HSSBV.

The HSSBV's mission statement is "To prevent cruelty and neglect to animals; to educate children and all members of the community about animal welfare issues, and to provide for the health and well-being of animals with an emphasis on spay/neuter to prevent pet overpopulation".

For more information on the services, programs, events, volunteering opportunities and donations inquiries, contact the HSSBV at http://www.hssbv.org or call 909-386-1400.