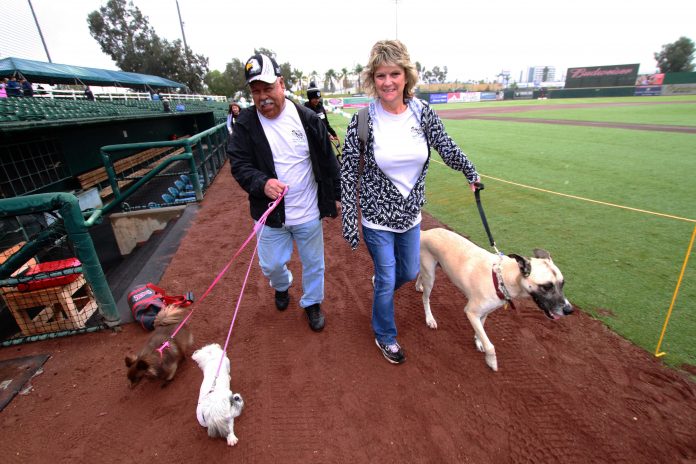 On Saturday, May 12th the Humane Society of San Bernardino Valley (HSSBV) held its annual "Walk for the Animals" fundraising event at the San Manuel Stadium presented by the San Manuel Band of Mission Indians.  Several vendors, spectators, and participants in the walk brought their dogs.  It was a little cold, cloudy, and some misty rain came down at times, but it did not deter guests from enjoying the day.  HSSBV reported $14,000 was raised to benefit their programs and services.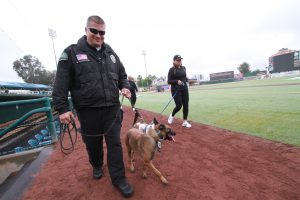 The LA Rams Cheerleaders came to support the event; they greeted people at the front entrance and posed for photographs.  Although the main event was Walk for the Animals, there were several activities for both dogs and their owners – musical hoops, pet contest, a pet play area, photo booth, raffles, and more.

Miss California North America 2018 Erica Franco and Snoopy, her 5-year-old Belgian Lab Mix, greeted guests at the entrance and helped judge the various canine contests.
Jeff Pope, host of the Jeff Pope Show on HOT 103.0 was the Master of Ceremonies.  Several San Manuel Public Service Officers including San Manuel Public Safety Officer George Pangelinan and his K-9 partner Lena participated in the event.  Lena is a Public Safety K-9 who is a three-year-old Belgian Malinois.
Participants in the walk raised funds by acquiring sponsors who pledged a certain amount of money for each lap they completed around the baseball field.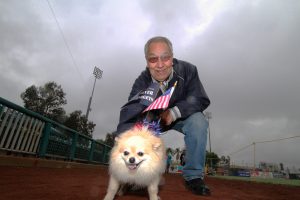 Hugo and Cecy Garcia from Chino participated in the walk for the first time.  They brought two little dogs, Ricky and Vicky.  Vicky who is 12 years old, had hip surgery 8 years ago which left her two back legs paralyzed and unable to walk.  However, Vicky was equipped with a special wheelchair for dogs and was able to not only keep up, but pass many of her fellow canines!
Joe Payan from San Bernardino brought his canine companion Julie to the walk.  Julie was also entered in the "Most Fluffy" contest and tied for first place.  Julie was in a dog vest bearing 2 flags protruding from the top – an American and veteran flags were both waving in the air as Julie walked.
The HSSBV has been in the community since 1970, Walk for the Animals has been held for over 20 years. The HSSBV has many programs include veterinary clinics, micro-chipping, therapy dog evaluations, crisis team services, cruelty to animal investigations, and group obedience classes. HSSBV occasionally offers special grants to senior citizens over 66 years of age to assist with their pets. Fundraising events are held several times during the year, but donations are accepted at any time.  Volunteers are also needed to help with daily operations.
HSSBV's mission statement is "To prevent cruelty and neglect to animals; to educate children and all members of the community about animal welfare issues, and to provide for the health and well-being of animals with an emphasis on spay/neuter to prevent pet overpopulation."
For more information on the services, programs, events, volunteering opportunities and donations inquiries, contact the HSSBV at www.hssbv.org or call 909-386-1400.