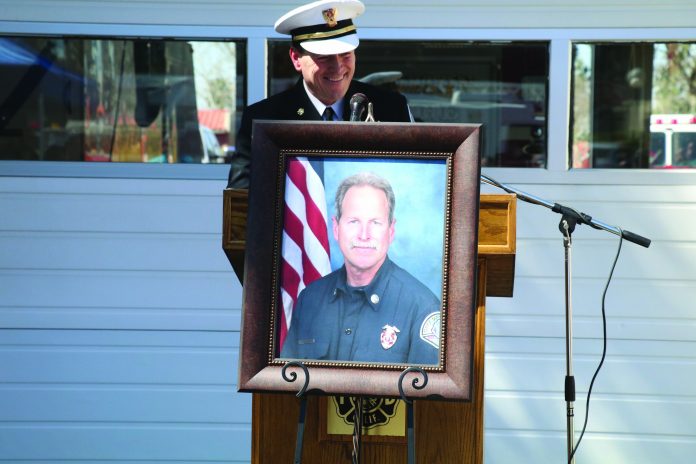 Hundreds of residents attended a ceremony on March 11 that commemorated the service and life of Colton firefighter David Lodarski.
Colton Fire Station No. 214–located on 1151 South Meadow Lane–was officially renamed in honor of Lodarski, who was killed in a car accident near Reche Canyon in October 2015.

The event was commenced with a vibrant and celebratory tone–starting with the presentation of colors and a rendition of America the Beautiful.
Colton Fire Chief Tim McHargue spoke of Lodarski's love for his family, his fellow firefighters, and for barbecuing.
The purpose, McHargue said, was to honor the good memories provided the community.
"As you drive by and look from the corner of your eye at this fire station, we want this to be a good memory," McHargue said.
In honor of Lodarski the city invested in a commemorative plaque that provides details on the late firefighter's life and involvement with fire department.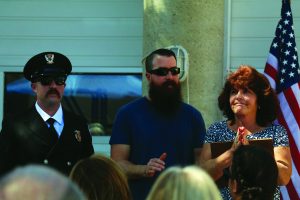 In addition, the city also planted several citrus trees and provided every fire station in the city a barbecue smoking pit to honor Lodarski's love for cooking and fruits.
"We thought it was a neat way to honor him," McHargue said.
David Lodarski's wife, Donna, praised the city for their willingness to honor her husband and appreciates the support of the community.
"We're so overwhelmed by the love and affection," she said. "The love that you have shown us as his additional family is really, really appreciated."
Councilman Isaac Suchil said he's content that the facility will be named after one of Colton's "homegrown" firemen.
"This is someone who grew up in this city and loved this city," Suchil said. "I feel that this is very appropriate."