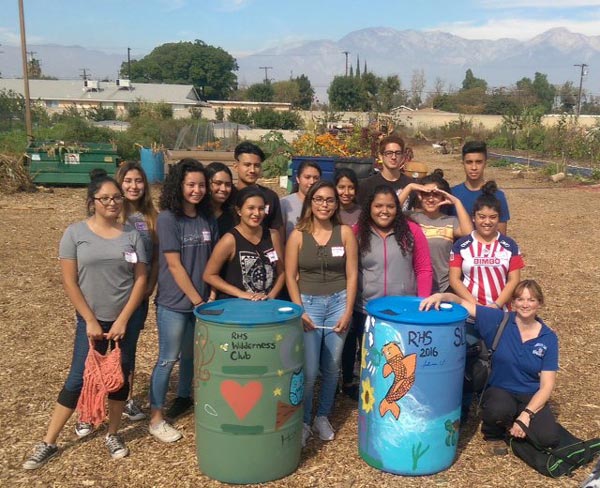 Eric Chan explained that Redlands-based Inland Empire Resource Conservation District serves a 1,300-square-mile region that spans Big Bear City to Ontario onto Cabazon. Its goal is to teach how a healthy environment directly relates to a healthy quality of life. With help from staff educators, the Inland Empire Resource Conservation District's message is spread from middle schools in Banning, to Rialto High School, onto the Highland Senior Center.
Chan is project director at the Inland Empire Resource Conservation District. Between him and staff educators they can provide a 30-minute crash course on topics such as endangered species, water conservation and governmental procedures. Before working at IERCD, Chan worked for the California Department of Fish and Wildlife, where he learned how the survival of even a small fish that once thrived in the Santa Ana River Basin can provide evidence about the overall health on earth.

"The Santa Ana Sucker fish and the Western Pond Turtle were once common in the region and now are critically endangered. You can still find them in stagnant pools of water around the Prado Dam area near Chino," said Chan. He did point out that waters behind the two relatively new Prado and Seven Oaks dams along the Santa Ana River Basin serve as an important site for native animals as well as for migrating bird populations. Chan said nearly all the flow of the Santa Ana River is now actually recycled water that is spilled into the riverbed by a number of municipal water sanitation districts.
According to a company profile, the 73-year-old IERCD is governed locally by the San Bernardino County Board of Supervisors. It then comes under the jurisdiction of numerous other entities including the county Local Agency Formation Commision (LAFCO) and the State Department of Conservation. A recent press release stated it received a federal grant to help promote community farming in Ontario. A 2015 fiscal indicator report showed that IERCD holdings are $9.3 million in liquid assets.
Other colleagues working with IERCD include state and federal fish and wildlife services, the Santa Ana Watershed Association, and the National Forest Service. It is part of a network of 99 statewide resource conservation districts, all performing a specific set of services corresponding to local community needs. Its many sources of funding also come from the Center for Land-Based Learning in Sacramento and from the United States Department of Agriculture.
While the IERCD is involved in a number of environmental topics, it spends a lot of time educating youth about water related subjects. "We go into as many classrooms as possible and reach thousands of students per year, from kindergarten to high school," said IERCD education project manager Susie Kirschner. "It's not the first time most students have heard about water conservation but we want them to hear about it year after year. They are receiving the message well."
Kirschner explained that IERCD aims to reach students from lower income areas, not just about water conservation but about the need to start community gardens. She added that it helps when teachers are pro-active. Kirschner pointed to Rialto High School teacher Joy Cantrell who helped arrange a field trip to Huerta Del Valle Community Garden in Ontario. She mentioned Citrus Valley HS teacher Shannon Rooney who arranged for a trip to Highland Springs Resort. Students studied the resort's on-site farm that operates under a no kill policy whereby no pesticides are used. Instead it establishes an environment that attracts predatory birds that prey on rodents and harmful insects.
Kirschner's colleague Jasmine Orozco explained that high schools within the San Bernardino City Unified School District will be targeted to receive conservation lessons this coming school year. Orozco told of ten different water conservation programs for youth, including farm to table, climate change, and how to capture rain runoff in water barrels.
"Youth that come from lower income areas have more to worry about when compared to those from more affluent areas," said Orozco, who is an education coordinator at IERCD. "Many students in our district come from families that have to worry about the basics like food, clothes, and shelter. We want to introduce them to other career options. There are a lot of jobs available in water departments and in wastewater treatment plants. We want to keep students engaged."
In summary, Chan says that saving the three-inch Santa Ana River Sucker fish is just as important as saving the ten-foot tall polar bear. "All wildlife plays a role in the ecosystem. Once they are gone, they are gone forever."