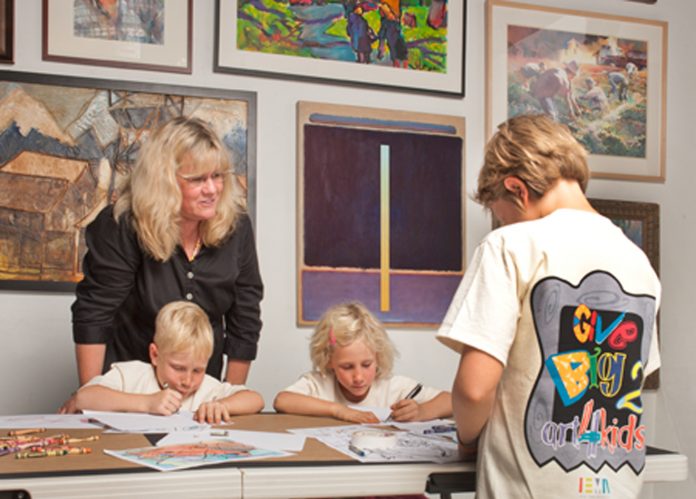 Imagine visiting a downtown square in the Inland region–one that has an exquisite museum that features art from many people across the globe.
One organization continues to work towards achieving that goal.

"There's a need for a museum of art that's free for the community and has substance," said Inland Empire Museum of Art founder and photographer Gene Sasse. "We're trying to build that space."
So far Sasse and his IEMA colleagues have it found difficult to find a location to house approximately 600 art works created by local, national, and international artists.
Corona or Rancho Cucamonga are ideal locations, Sasse said. However, for now, IEMA is focusing its efforts on organizing exhibits that focus on various mediums.
On Saturday (Feb. 18) the museum is holding a reception and panel discussion for the     'Epitatphs: What Dreams May Come' exhibit from 2 pm to 5 pm at their location, 1335 North Benson AVE. Unit # D in Upland.
The exhibit deals with how we perceive the journey of life. Sasse said renowned artists Heather Wright, Moses X. Ball, and Kent Twitchell will be on hand to discuss their work and touch on the theme of life.
"We are excited to open this exhibit to the public," said Sasse. "Having an arts venue that is free, broadens the artistic venues that are open to our community; IEMA is looking forward to meeting a growing need in the Inland Empire and looking forward to working with SEEDS on this exhibit."
Future Exhibits
March & April  Distinct Perspectives: from Eastern Europe |  Mar 31st – May 21st
Opening Reception Apr 2nd – 2-5pm
Art Talk: Apr 15th 6-8 PM – Panel Discussion
This exhibit features three artists from Eastern Europe: Armenia, Romania and Russia. While currently living in Southern California, their emigration to the US radically impacted their art work. Frescos, paintings, metal sculptures…Three men, with disparate work, have the common threads of foreign homelands and the passionate pursuit of their own unique kind of art.
May & June  Fragments: An Archeology of Memory | May 26th -Jul 16th
Opening Reception May 28th – 2-5pm
Art Talk: Jun 17th 6-8 PM – Panel Discussion
A unique artistic perspective from a Vietnam veteran. This artwork has facilitated the uncovering of bits of blocked memories, pieces of the reality that was too harsh to hold onto, to in the 70's, too difficult to relive fully today With a paintbrush as his tool, Johnson allows his subconscious access to his studio and we benefit by these dozens of abstract paintings and assemblage. The images are fragments that interplay with poems, short stories and plays written after 911. The written words, rather than explaining the images, point beyond or behind the artwork.
For more information, contact Sasse at 909-914-3993 (cell) gene.sasse@iearts.org.