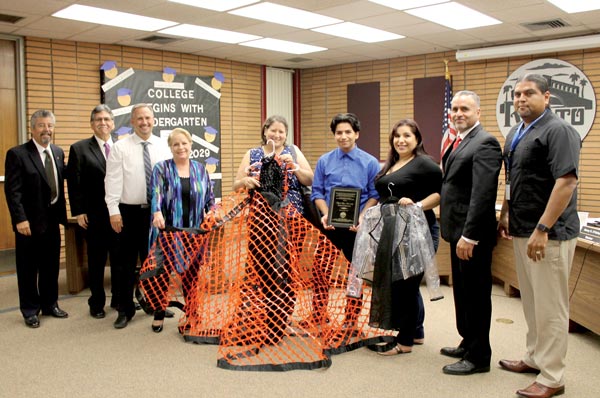 The Rialto Unified School District has many reasons to be proud of its recent Eisenhower High School graduate, Miguel Meza Hernandez, but two big reasons that are prominent, and timely, are his State and national recognitions, both of which Miguel earned in the spring and summer of 2017.
Miguel grew up in the City of Inglewood, and attended school in the Lennox School District, before moving with his family to the City of Rialto, just a little over two years ago. He has two older siblings, Marlene, and Jose, and one younger sister, Heidi, who attends Frisbie Middle School.

Last April, Miguel competed for the State level in the Family Career, And Community Leaders of America (FCCLA) Competition. He designed a woman's dress utilizing recycled plastic material. He earned the State award, and was honored with a medal and cash prize at the Riverside Convention Center.
A couple of months later, in July of 2017, Miguel competed at the nationwide level, and won the judges over, at the National FCCLA Competition, held in Nashville, Tennessee.
"It was very cool," smiled the somewhat shy 17-year-old, future fashion designer. "I was a little surprised because there were many entries."
It took Miguel almost four months to make his award-winning dress that would receive national recognition.
"I was creating a dress that I made from construction fencing and plastic, it was all quite fascinating to me, and a challenge."
When asked if he gets his inspiration from anyone in particular, he smiled, "My mom, Martha, and I guess, just me. Then he elaborated, "But I'm inspired by many things around me. I couldn't say it was one particular person. I just know that I like creating designing and building artistic pieces, so I had it in my own mind that I wanted it to be an elegant dress."
"Miguel hasn't been an Eagle all four years, and yet he truly represents Eisenhower's core values," replied a proud Eisenhower High School Principal, Mr. Scott Sparks. "Miguel was able to be successful in his passion because Eisenhower is able to offer a number of pathways such as fashion to a diverse community. I am proud of his hard work and his dedication to his future."
The budding fashion designer, who currently works at a pharmacist's office, credits Ms. Jennifer Beier, his design teacher at Eisenhower High School, for helping him to pursue his goals.
Ms. Beier, and Mr. Sparks were both at the board meeting to cheer him on, receiving a plaque from the District.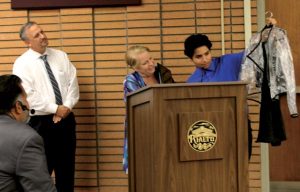 "This is such a prestigious, national honor, highlighting his talent," said Superintendent, Dr. Cuauhtémoc Avila. "Congratulations, Miguel. I not only commend you but I'm hoping that in the future you will design a perfect suit for me, and, I'll even settle for a tie, so I can say that a national, award-winning designer made it to for me!"
Miguel wants to finish his studies and move to downtown LA to continue his passion as a fashion designer. His upcoming show in September will be held in the City of Torrance and will be dedicated and organized by the LGBTQ community.
Miguel, we are very proud that you are a product of this District. We wish you well in the future and believe that you will become a success in your chosen field.