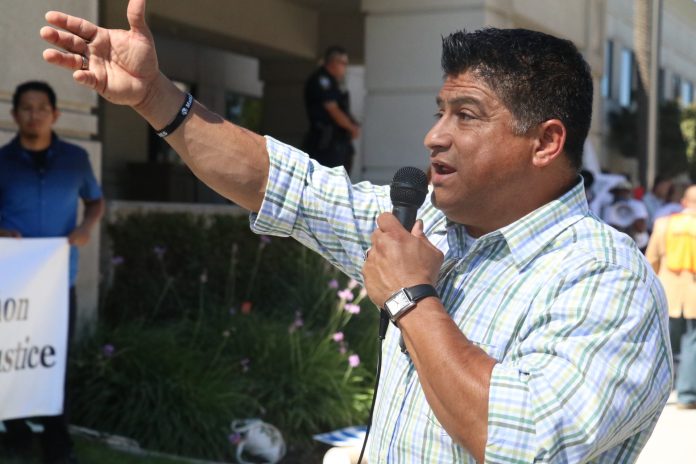 Dozens of immigrant rights organizers convened at the U.S. Immigrations and Customs Enforcement (ICE) field office in San Bernardino Tuesday morning to again highlight the issue of immigrant detention.
The rally and ongoing conference marks a "Week of Action" where organizers will have discussed immigration issues, marched in protest, hosted workshops, and spotlighted individual stories of struggle; the conference was slated to wrap up on August 20.

Organizers are marking the fifth-year anniversary of the opening of the Adelanto Detention Facility that houses upwards of 2,000 male and female immigrants. Detainees there await resolution of their cases, which will decide if they are allowed to stay in the U.S. or deported back to their home countries.
Carlos Hidalgo, who was previously detained at Adelanto believes immigrant rights organizers must better inform the public about their plight.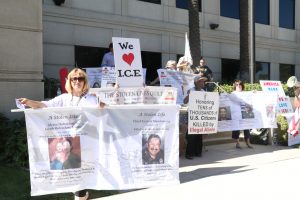 "This is dear to my heart," he said. "I lived it. We need to emphasize the fact that immigrant rights need to be taken seriously."
Pro-immigration right advocates stood on one side of the building, while anti-illegal immigration protesters stood 30 feet away on the opposite end.
"We're here because these people are treading on us," said Bill Kezar of Chino. "Many Americans have been murdered by illegals."
Raul Rodriguez of We The People Rising believes Americans should be supportive of ICE's operations. "We're here to show support for ICE, for keeping Americans safe, and keeping illegals out of our country."
Inland Coalition for Immigrant Justice Executive Director Javier Hernandez said immigration advocates have a different message–one that focuses on unity and humanity.
"Many of us have been here for 20, 30 years, and will continue to live in this country," he said in a loud voice. "We're here because we believe every human in detention should have dignity…we are here to say that our communities matter."
Five Hondurans apprehended, detained
The week of action follows the recent August 4 detention of several Honduran immigrants who were alleged to have counterfeited documents and committed other crimes.
According to a Department of Motor Vehicles (DMV) press statement from August 12, investigators–in conjunction with the Pomona Police Department and ICE–placed 12 individuals under arrest at two apartments in Pomona and Montclair.
As of August 12, seven of the twelve remain in custody–among them identified as Orlin Bladmir Diaz Orellana, Eber Virgilio Bonilla Lopez, Henry Josue Bonilla Lopez, Lexi Rosibel Bonilla Lopez, and Joel Bonilla Lopez–and are hoping to be released, according to organizers, with the help of the Inland Coalition for Immigrant Justice (ICIJ).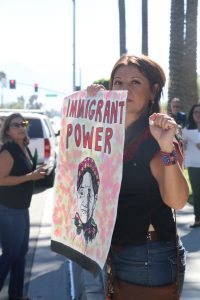 "We're urging for ICE to release them," said Hernandez. "There was no reason for them to be taken."
Luis Nolasco, a community engagement and policy advocate for the American Civil Liberties Union (ACLU) Southern California office, believes the DMV, in his words, made a "huge mistake."
"These people have no criminal history," he said. "And there hasn't [sic]  been any charges filed against them. We're trying to receive some clarity as to why they are being detained."
The DMV also said that their operation, "was not connected in any way to the immigration status of the suspects."
ICE spokesperson Virginia Kice said on Monday that she could not provide further information about the matter, referring all questions to the DMV.