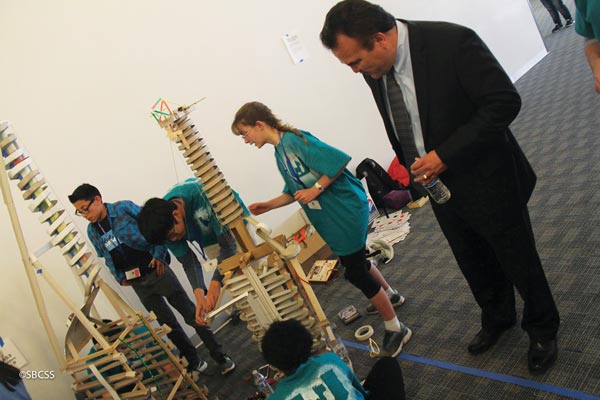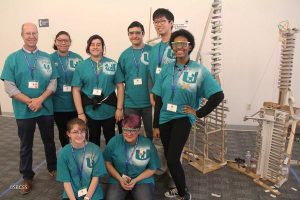 How do you apply a Band-Aid?
With science, of course.

At least that was the case for more than 100 elementary, middle and high school students as they took on the simple task in the most complicated way during the Inland-areas first-ever Rube Goldberg competition March 4 at the San Bernardino International Airport.
The event allows students to collaborate as a team to create a complex "green" machine made of recycled materials to perform a simple task. The task at hand for the competition: apply a Band-Aid in 10 or more steps, make it complicated, humorous and theatrical.
It was everything but simple.
With lab coats on, or superhero capes, or with controllers in hand, teams of students from throughout the Inland Empire including Rialto, Colton and San Bernardino took on the challenge. Teams from Rialto Unified School District made up nine of the 24 participating teams.
"They've run it dozens upon dozens of times and they're learning that each time their machine is reset, anything could go wrong," said Susan Tarbutton, Casey Elementary fourth-grade teacher leading Rialto's Casey Creators team.
"But it's all about perseverance and they are learning to keep going. That's a huge component of anything — keep going. The goal is to be creative and innovative. It's part of being a 21st century learner."
For the Casey Creators — Desiree Saldate, Emma Vara, Ashley ramirez, Christopher Aguirre, Rigoberto Diaz and J.T. Huour — perseverance and persistence is what got the team of six their first place win for Top Machine in the elementary school division. Mission Roadrunners from Ontario-Montclair school district and Super Team Extreme from Casey Elementary followed in second and third place.
Additional award-winning teams by category and division are: Rube Goldberg Creative Spark Award: Mission Roadrunners from Mission Elementary in Ontario-Montclair, Big Bear Middle from Bear Valley Unified and Upland High;
Spirit of Rube Goldberg Award: Super Team Extreme from Casey Elementary, Joe Baca Middle and University Prep Jaguars from Victor Valley Union High School District;
Rube Goldberg Teamwork Award: Casey Mechanics from Casey Elementary, Big Bear Middle and University Prep Jaguars;
Top Three Machines, Middle Schools: Joe Baca Middle, Oaks Engineering Eagles from Oaks Middle in Ontario-Montclair and Big Bear Middle;
Top Team, High School: Upland Highlanders from Upland High.
The inaugural San Bernardino County Rube Goldberg Machine Contest was presented by the San Bernardino County Superintendent of Schools and funded through a grant provided by Edison.
To learn more about Rube Goldberg machines, visit www.rubegoldber.com.