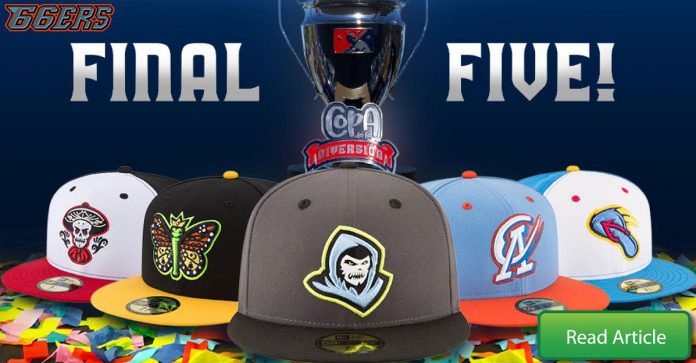 The Inland Empire 66ers of San Bernardino were informed by Minor League Baseball (MILB) on Monday that they have been named one of five finalists for the 2018 Copa de la Diversion (Fun Cup) Hispanic/Latinx Outreach Initiative. As part of the Copa de la Diversion promotion, MILB teams were given the opportunity to re-brand and promote with a new Hispanic/Latinx themed identity, and the 66ers transformation was named one of the nation's best as the club morphed into Los Cucuys de San Bernardino on selected dates throughout the 2018 campaign.
The Inland Empire club, Advanced-A affiliate of the Los Angeles Angels, decided that its mascot for the Copa de la Diversion would be their take on the infamous Cucuy that is often referenced in Hispanic/Latinx popular culture and would be a rough equivalent to the "Bogey Man" in the United States. The fanged mascot was an instant hit with fans with merchandise featuring El Cucuy being purchased from around the country. The Los Cucuys promotion was run at San Manuel Stadium every Thursday home game from May through August and the club saw an increase in overall attendance on those days; the initial Cucuys date of May 3rd witnessed a massive crowd of 6,887 fans (an increase of 252% from the first Thursday in May of 2017).

The rebrand of the team was a part of the club's efforts in fan engagement. The team emphasized Hispanic culture by partnering with local heritage groups, as well as bringing in entertainment for pre-game and in-game activities from folklorico dancers and mariachi groups. San Manuel Stadium also featured live Spanish-language interviews with ballplayers from Hispanic/Latinx countries on the field and recorded segments on the team's video board. As mentioned, Los Cucuys were one of five finalists for the Copa out of 33 clubs chosen to participate. Of the five finalists, Los Cucuys, Monarcas de Eugene (OR) and Flying Chanclas de San Antonio are all members of the Elmore Sports Group, an ownership group that was recently named MILB Organization of the Year by Ballpark Digest.
"Los Cucuys de San Bernardino has been one of the most fun promotions we've been a part of," Inland Empire 66ers/Los Cucuys de San Bernardino General Manager Joe Hudson said. "We stress inclusiveness at our ballpark, but this was a way to put that at the forefront and truly celebrate our diverse community. To be nominated as one of five teams to rise up to the challenge is gratifying for us locally but also a testament to the desire for everyone to be represented in the game of baseball."
The selection for the Copa de la Diversion winner will take place on December 10th in Las Vegas at the annual Professional Baseball Winter Meetings. For more information please call 909-888-9922 or visit www.66ers.com.