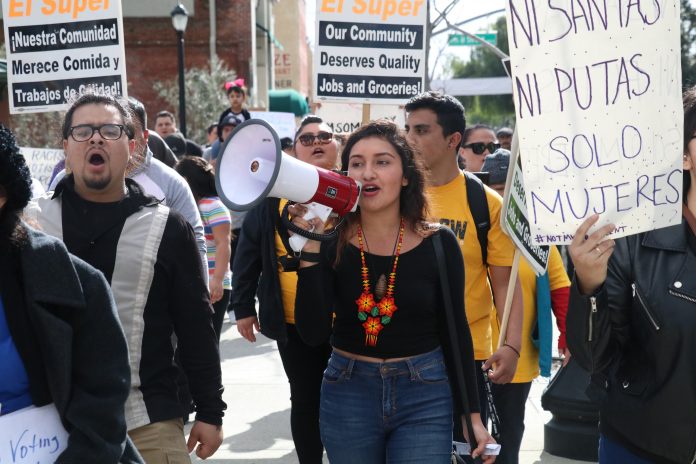 Hundreds of Inland Empire residents gathered for rallies and marches on Saturday in opposition of Donald Trump, who only a day before was inaugurated as 45th President of the United States.
The events, which included a 'Rally Against Hate' in San Bernardino and a 'Inland Resistance' march in Downtown Ontario, called for collective action against a climate of hate they say has been instigated by the new commander-in-chief.
"The fear is real," said Inland Congregations United for Change Executive Director Tom Dolan to about 80 people gathered outside the San Bernardino City Unified School District Board of Education building. "We have to go back to work. Let's resist the hate–the white supremacist structures that throughout history have held our people down."
Whereas millions across the U.S. and world held rallies and demonstrations to alert Trump of their resistance, immigrant rights organizers, environmentalists, and educators in the Inland Empire focused on domestic plans that may alleviate community concerns of mass deportations and civil rights violations.
San Bernardino City Unified School District Superintendent Dr. Dale Marsden and board member Abigail Medina spoke on a recent resolution they championed to make district campuses 'safe zones'. The resolution emphasizes the district's commitment to providing safe learning environments to every student, regardless of immigration status, ethnicity, race, religion, or sexual orientation, among other categories, according to a press statement.
Medina urged families to join the united effort to defend the rights of all students.
"It's about unity," she said. "It is about providing opportunities, regardless of where they come from."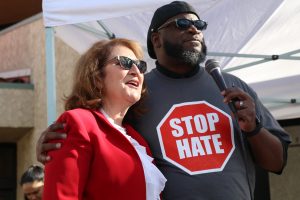 In Ontario, people gathered outside City Hall to urge councilmembers to declare the area a sanctuary city. Advocates say the decision, which would provide legal protections to undocumented immigrants, can serve as a model for the rest of the region.
Nonetheless, some immigrants believe striving for long term solutions will provide more stability.
"We have to push for more permanent solutions for our community," said Inland Empire Immigrant Youth Coalition member Zahian Vidal, 17. "It's important for us to get our voices heard and be an example for others that want to contribute to making the world a safe and better place."
Steve Lopez, 42, of Chino participated in the rally and march in Ontario because he believes it's "common sense."
"People are being fooled by this con artist," Lopez said of Trump. "They should know better."
The former gang member is convinced that change can only come from within struggling communities, such as Chino, Ontario, and San Bernardino, and not from self-absorbed leadership.
"I used to gang bang here, only to shoot at my own people," he said. "I thought I was doing something, but I was lost. Now I'm here fighting for people's rights. We need to fight for justice."
Rosalind Bresnahan of San Bernardino said she protested on Saturday to fight against Trump's anti-minority and autocratic agenda.
"Trump said he was going to drain the swamp," expressed Bresnahan on the President's promise to rid Washington D.C. of bureaucratic corruption. "He's doing the exact opposite of what he's telling his supporters. We have to build a movement of resistance."