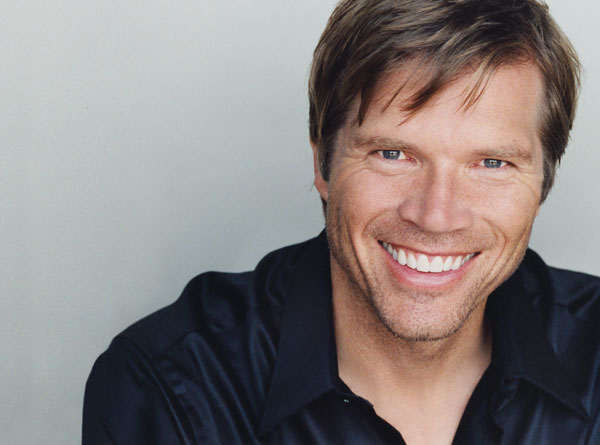 The San Bernardino Symphony Orchestra will return to the historic California Theatre of the Performing Arts March 24 for the fourth installment of their widely-praised 2017-18 concert season. The upcoming performance will feature world-renowned baritone Rod Gilfry singing music from Mozart and Bernstein.
"We are excited to welcome a vocalist of Mr. Gilfry's outstanding quality," explained Symphony Board President Dean McVay. "His local connection combined with an unsurpassed international presence is something very unique and special to share with our audience."

In fact, Gilfry was born and raised in Southern California. He earned degrees from California State University Fullerton and the University of Southern California before beginning a career that took him to music halls around the world. The two-time Grammy nominee, singer, and actor has performed in all the world's music capitals, and is acclaimed world-wide in opera, musicals, recitals, and cabaret.
From 1987 to 1989, he was a member of the Frankfurt Opera ensemble, and from 1989 to 1994 he was a member of the Zurich Opera ensemble. He has created 12 leading roles in opera world premieres, most recently in the Brooklyn Academy of Music solo opera by David Lang, The Loser, and at the Houston Grand Opera in Jake Heggie's It's a Wonderful Life. Other recent appearances include Glyndebourne Festival (Hamlet world premiere), Metropolitan Opera (Thomas Ades The Exterminating Angel), Brooklyn Academy of Music (Aucoin's Crossing), Los Angeles Master Chorale (Beethoven Missa Solemnis), Edinburgh Festival (Cosi fan Tutte), American Repertory Theatre Boston (Matther Aucoin's Crossing world premiere), Zurich Opera (Rote Laterne world premiere), NYC Mostly Mozart Festical (Cosi fan Tutte), San Francisco Symphony (The Tempest) Alabama Symphony (Beethoven 9th Symphony), Vienna Volksoper (Kismet), New York City Opera (Anna Nicole), Aix-en-Provence Festival (Don Giovanni, Cosi fan Tutte), Quebec City Festival (The Tempest), Los Angeles Philharmonic (Cosi fan Tutte), London Royal Opera Covent Garden (Anna Nicole), Metropolitan Opera (The Merry Widow), Milwaukee Symphony (Cosi fan Tutte).
Gilfry's recent recordings include Mozart's Cosi fan Tutte, Heggie's It's a Wonderful Life, Great Voices Sing John Denver, Matson's Cooperstown, and Stucky's August 4th.
Following his performance with the San Bernardino Symphony Orchestra, Gilfry will be performing with the Phoenix Symphony, Los Angeles Opera, Santa Fe Opera, San Francisco Opera, Metropolitan Opera, and in Seoul, Korea. In addition to his performance work, Rod Gilfry is an Associate Professor of Vocal Arts at the University of Southern California Thornton School of Music in Los Angeles.
The music to be performed includes Nozze di Figaro Overture, Count's Aria (Nozze), Deh vieni alla finestra (from Don Giovanni), Tutto è disposto, Magic Flute Overture, Der Vogelfänger (from Magic Flute), and the West Side Story overture. Following a brief intermission, the concert will include On the Town Suite, Lucky to be Me, and Lonely Town from Bernstein's On the Town, Simple Song from Bernstein's Mass, and the Toreador Song from Carmen.
"We cannot imagine a more exciting suite of music to showcase Mr. Gilfry's talents," added McVay.
The Symphony will perform this concert under the baton of guest conductor Rick Giangiulio who is the fourth candidate in the Orchestra's two-year formal conductor search. The Philadelphia native began his musical career at the age of 10, after finding his uncle's trumpet in the family attic. Three years later, he made his solo debut with the Philadelphia Orchestra as the winner or their youth concerto competition.
Maestro Giangiulio holds degrees from the Curtis Institute of Music, the Juilliard School, and a first prize from the Paris Conservatory where he was awarded a Fulbright grant to study with Maurice Andre. After winning the first Medal at the 1967 Geneva International Trumpet Competition, he joined the Israel Philharmonic Orchestra. The following year he returned home to play principal trumpet with the Philadelphia Chamber Orchestra before winning the principal position with the Dallas Symphony. He remained principal and co-principal trumpet with Dallas for 32 years. His six recordings of solo and chamber literature for trumpet can be found on the Crystal label.
Giangiulio's conducting career began when he was asked to develop youth concerts for the Dallas Symphony Orchestra. Following these successful concerts he was asked to take over the conducting responsibilities of the Greater Dallas Youth Orchestra, a position he still holds after 37 years. Further conducting opportunities in Dallas have included Youth, Park, Pops and run-out concerts. He was also the conductor of the New Philharmonic of Irving, Texas for 11 years and the Allen Philharmonic for eight years. He has collaborated with such artists as Sydney Poitier, Doc Severinsen, Alessio Bax, Jamie Bernstein, Abba, The Five Browns, and Chee Yun Kim.
Giangiulio's conducting career has attracted significant acclaim. Wrote Scott Cantrell of the Dallas Morning Review, "Plenty of conductors with major careers could learn from his clear, communicative beat, his feeling for musical form and proportion- his sheer musicality."
The concert will begin at 7:30 p.m. at the historic California Theatre of the Performing Arts, 562 W. 4th Street, San Bernardino.  A pre-concert talk will be provided at 6:30 by Maestro Giangiulio and is free with your ticket.
Concert tickets, which begin at just $10 for students and active military, may be purchased by calling (909) 381-5388 or on-line at www.sanbernardinosymphony.org. General admission tickets are also offered with limited availability at the theater box office prior to each event.
For those interested in starting concert weekend a little early, the San Bernardino Symphony Orchestra will be holding an intimate evening of music on March 23rd at the historic Claremont home of University of La Verne President Devorah Lieberman. Tickets are still available for this black tie optional event which will feature music by Rod Gilfry. Call (909) 381-5388 for more information.