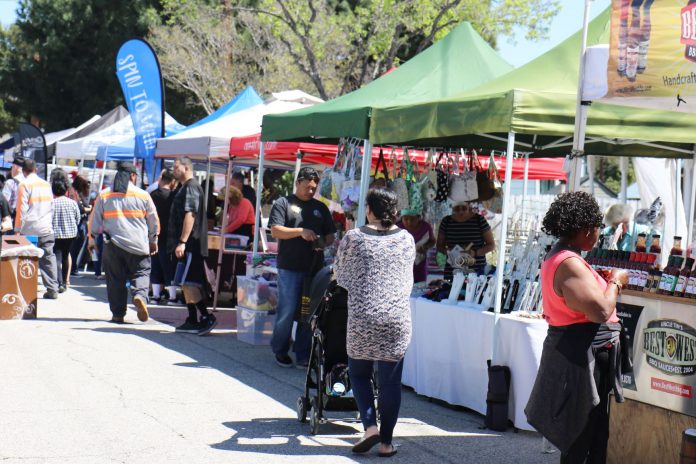 A weekly downtown San Bernardino Food Fest is coming to Court Street Square this summer.
In early June, San Bernardino City Council voted to no longer require food vendors to obtain social security numbers or tax ID numbers, and background checks will not be required of vendor participants.
Food vendors will be required to have self-identification, applicable permits and state what they anticipate selling on the street vendor application.
"Our highly praised Taco Night in San Bernardino has quickly blossomed into a full-fledged grassroots community movement geared towards uplifting micro business owners, uniting our community, and aiding in the revitalization of our city's downtown," said Luis Ojeda, San Bernardino Food Fest coordinator.
The Food Fest transitioned from the successful Taco Night, which was also held at Court Street Square every weekend during spring 2019, until San Bernardino Mayor John Valdivia asked vendor participants to abruptly "hold off" on the vendor gatherings so that city council can refine the city ordinance on street vending.
"The Food Fest is powered by residents who aim to bolster our community through providing a space that showcases the talents of entrepreneurs in our area, while highlighting the beauty of Downtown San Bernardino," continued Ojeda.
The Food Fest website, http://sbfoodfest.com/, went live on Saturday, June 15th.
The website features event and sponsorship information, food vendor and entertainment applications.
"The San Bernardino Food Fest is honored to provide our local artists with the opportunity to showcase their talents for free. Solo artists and bands have the opportunity to show the Inland Empire their skills at the Historic Court Street Square stage," Ojeda said.
Not only will the Food Fest be filled with entertainment and interconnectedness within the community, it will also be a hub for food vendors to network and generate income for their household.
"At the SB Food Fest you can experience an infusion of culture and community through a vast variety of food vendors, while also shopping for unique finds; as we bring this experience to you every Saturday night this summer. Enjoy a lively atmosphere filled with the sound of music that is family friendly and community oriented," concluded Ojeda.
For more information call 909-300-5998.