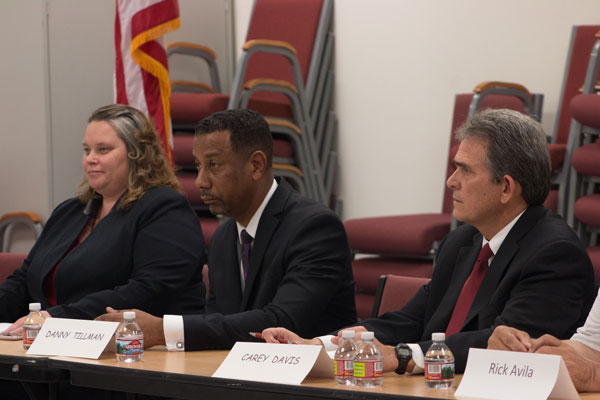 San Bernardino mayoral candidates were asked stern questions by residents and community leaders during a forum at the Little League Western Regional Headquarters Tuesday evening regarding the city's struggling infrastructure, economy, and quality of life.
The Mayoral Forum was organized by the Verdemont Neighborhood Association and the League of Women Voters of San Bernardino.

Current Mayor Carey Davis, Councilman John Valdivia, San Bernardino City Unified School District Board Member Danny Tillman, businesswoman Karmel Roe, and youth mentor Rick Avila had 1-2 minutes per question to provide their solutions on issues like marijuana regulation, economic development, prostitution, and homelessness.
Throughout the evening Valdivia and Davis notably took turns criticizing one another. Valdivia is vowing to take a "tough on crime" approach if elected—one that builds on Davis' "lack of productivity."
"I will clean this town up," claims Valdivia. "I will make it my endeavor to clean this town up."
Valdivia claimed that he's not a part of the establishment, but the solution to San Bernardino's ails. His record of distinction in the Third Ward includes cleaning up graffiti and building relationships with residents.
"Our city is at a crossroads," said Valdivia. "We need dynamic, bold leadership. At the end of the day, we want a Mayor…that will get back to the basics of government."
Davis said there is no doubt parts of the city are in dire need of economic development. The new charter, approved by voters in 2016, is helping provide the necessary structure to spur San Bernardino's economic growth. A good example of that could be seen with the international airport, Davis said.
"We have a $30 million reserve and we will continue to strengthen that," he said.
Davis added that he believes the city is on the right track. Under his leadership, they have established goals based on economics and urban development. Seeing out those goals, Davis said, will depend on responsible fiscal practices.
"That's why I think it's important to re-elect me," said Davis. "We've already established the pathway to success."
Mayor Davis also reminded the crowd that Valdivia was among the individuals that spearheaded the Measure P cannabis initiative that failed at the ballot box in 2016.
Tillman, who previously ran for mayor in 2013, thinks it makes no sense to support homeless people that reside in other cities. The County should be willing to help the city with these residents, he said.
Every candidate—excluding Avila—expressed willingness to regulate and tax marijuana for economic and social benefit.
"I don't want this to be a weed town," said Avila
 Roe believes there is too much stigma surrounding marijuana. At-risk students are in danger due to the lack of after school programs, not because of the substance.
"It starts with education," she said.
Roe also said she would like to partner with the school district to improve conditions in areas surrounding schools. Her vision involves being transparent with residents, Roe explained.
"Do you want someone who tells the truth or someone who tells half-truths?"
Candidates Gigi Hanna and Daniel Malmuth did not attend the forum.