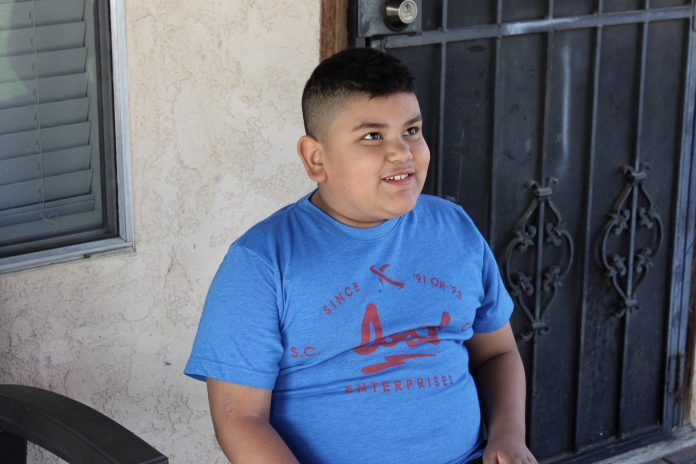 Since the day Jonah arrived from the hospital after a car struck him in June, he's recovered at a good pace.
Despite having rods in his right arm and leg, the 8-year-old is walking on his own, explained his father Gilbert Reyes.

"There's been hiccups here and there," Reyes expressed. "But we've been looking on the bright side."
Recovering mentally will be the challenge for Jonah, explained Reyes. Being a child and watching others enjoy themselves has taken a toll on the Grant Elementary School third grader. The sound of speeding cars, and even riding inside a moving vehicle, makes Jonah anxious.
"Imagine an 8-year-old that can't be an 8-year-old," said Reyes. "So many parties he's missed. You can see it on his face that he just wants to play. He's constantly telling me, 'Dad, I moved too slow, I should have moved faster.' And I tell him it's not his fault."
Both Reyes and Jonah constantly replay the events that occurred on the evening of June 13, 2017. The Reyes' visited the home of the Ruiz family, which sits near the intersections of 8th and Oak Streets and La Cadena Drive–a roadway that is becoming a cause for concern to residents due to its curve.
According to a traffic collision report prepared by the Colton Police Department, the driver of the Honda Civic that hit Jonah was excessively speeding down La Cadena Drive and lost control of the vehicle as he turned the corner.
Reyes said he remembers standing on the driveway of the Ruiz's driveway at 1163 N. La Cadena when he saw the speeding Civic run over the curb of the home and through wooden posts before striking Jonah, thrusting him into the wall of the neighbor's home on 1161 N. La Cadena.
Through the rubble, Reyes found his son trapped under the Civic, which continued running despite being damaged by the impact of the the crash.
"[Jonah] said he's angry at the person that hit him," Reyes said about Jonah's thoughts regarding the incident. "I think it's OK as long as he doesn't react to that anger. But it does get to him. I mean, that kid didn't get charged with nothing. Even though he admitted he was speeding, it was ruled an accident."
Despite the annoyance and anger of not fully engaging in physical activities, Jonah continues to receive support from friends and teachers. He's currently receiving home instruction from the Colton Joint Unified School District.
"I'm glad I'm getting support," said Jonah, who aspires to be an engineer in the future. "It makes me feel good."
Reyes said Jonah is like his favorite superhero, Superman, a strong person that could overcome adversity.
"It could have been a lot worse," explained Reyes. "We all could have been wiped out. He'll get through this, but it's not going to be easy."