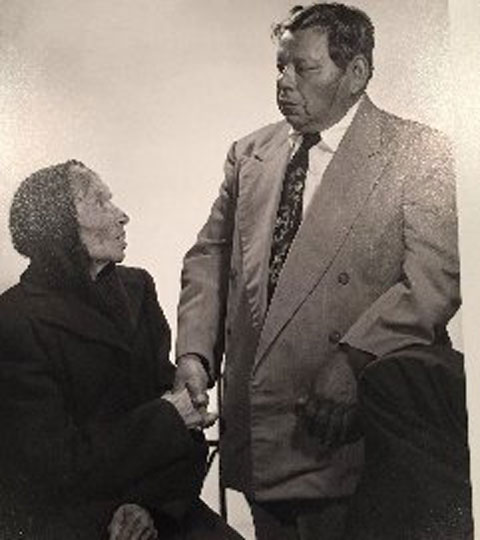 Rumors of Juan Caldera's friendships with the Earp family and Pancho Villa once filled the Colton air. For certain, his vast business savvy and charitable nature brought him into negotiations with leading administrators of the era.
After one hundred years since Juan Caldera made his first contributions in Colton, he will be finally inducted into its Sports Hall of Fame in 2017. Caldera came to Colton at 15 with his family from the town of Jerez in Zacatecas, Mexico in 1907. By the time Caldera was 30, he saved enough money working at the Portland Cement Plant and at the family Caldera Market, that he could begin putting into action his master plan.

Public records show Caldera buying land in South Colton to build the region's first outdoor/indoor sports complex. It took four years but he finally completed his stadium, known as the International Stadium. Reports show he managed and owned the Colton Cubs baseball team and had it ready to compete at the independent Double-A pro level by the 1928 season. He was one of the first owners in the nation to thoroughly integrate a sports team. Articles in the Riverside Daily Press and San Bernardino Sun-Telegram describe Caldera as a businessman with the ability to negotiate across demographic lines.
William Caldera explained that his grandfather's ultimate goal was to help make a better life in Colton for those of Mexican heritage. With that in mind, the elder Caldera also purchased enough land to build a park and swimming pool for those of in the "Mexican Colony" of South Colton. William Caldera and his cousin Augie Caldera both told of an era of strictly enforced, segregated Colton. "Mexican people were not allowed to swim in the Colton Plunge except on Friday's," said Augie Caldera.
While mention of Caldera's friendship with the Earp family cannot be verified, several eyewitness accounts do place him in association with General Pancho Villa in Colton around 1920. Both Augie Caldera and William Caldera remember family members telling them that Juan Caldera hosted Villa and also visited him in Chihuahua, Mexico. "My grandfather once had the car Pancho Villa was shot and killed in but it ended up back in Mexico," said Augie Caldera.
Records show that Juan Caldera and his father, Don Apolonio Caldera were Colton's first presidents of the newly formed Mexican Chamber of Commerce in 1928. William Caldera said his grandfather produced the only bullfights held in America. "Along with baseball, he promoted motorcycle races, boxing and wrestling." One legal notice showed that Caldera enlisted in the U.S. Army during World War I.
Colton historian Mel Salazar noted that Juan Caldera also owned dance halls, night clubs, and a gas station in Redlands. "He was way ahead of his time as a businessman," said Salazar. "His dad helped him out at the beginning and by 1932, he was worth $100,000 which would equal about $5 million today. He was "the go to guy" in South Colton because there was no one else to represent the residents. It was during the depression and it was very bad. He was known as the Godfather, in a good way."
Salazar acknowledged the time was way overdo for Juan Caldera's HOF induction. It was Salazar who presented Caldera's name before the Colton City Council at its Nov. 16 meeting. Caldera and former Colton HS football coach Don Markham will be formally enshrined in early April 2017. "What really made Caldera such an important person was the fact that he gave back to the community," said Salazar. "He was always the largest donor to the Colton Welfare Fund. If he couldn't get what people wanted, he would build it."
William and Augie Caldera said giving has been a family tradition for 95 years. The Caldera's upheld those rites until the very last of their families businesses was sold in September. Known as Club Trinidad in San Bernardino, it was where the Caldera's provided all-you-can-eat free menudo every morning until the practice was stopped five years ago.
"That's what I was always told about my grandpa," said Augie Caldera. "He was the voice for those of South Colton at a time when they had no voice."