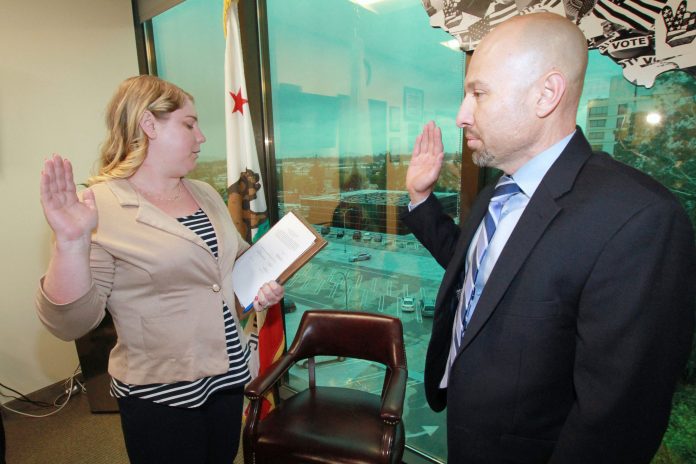 On Thursday, May 23, newly elected San Bernardino City 3rd Ward Councilman Juan Figueroa was sworn into office during a small reception that took place in San Bernardino Mayor John Valdivia's office among several friends, family, supporters, and city officials.
Figueroa ran for the Third Ward seat vacated by then-Councilman John Valdivia who was elected mayor. Figueroa ran against Treasure Ortiz and Anthony Aguirre during the Special Election held on May 7, taking in 68% of the votes. Every vote counts, as only 1,445 mail-in ballots were recorded out of 11,263 registered potential voters in the Third Ward. That's a little over 12% of the voting population who participated in the special mail ballot election.

After the Oath of Office was administered, Figueroa received congratulations from those in attendance. Among those were his mother Josephine Figueroa and sister Laura Sanchez, both of whom were given the grand tour of the Mayor's Office and Juan's new office space located in the Vanir Tower.
Figueroa is a lifelong resident of San Bernardino who grew up in the 3rd Ward. Figueroa works full time for Loma Linda Medical Center as a Medical Social Worker; he has attended the Seventh-day Adventist Spanish Church in the City of Colton. Figueroa has represented 3rd Ward residents on the San Bernardino Fire Commission, Historic Preservation Commission, and the Community Development Citizens Advisory Committee. Figueroa was endorsed by the San Bernardino Police Officers Association, and the San Bernardino County Professional Firefighters Local 935. Over a dozen community leaders serving on various commissions, committees, and community organizations have also endorsed Figueroa.